Vivobarefoot: The Best Range of Barefoot Shoes
Author: Stephanie Ford Date Posted: 7 September 2020
Dive into the wacky, wonderful world of barefoot shoes! If you're curious about how barefoot shoes work and which Vivobarefoot shoes will suit you best, this is the blog for you.
Barefoot running is (possibly) less of a buzzword today than it was when Christopher McDougall released his cult classic novel Born to Run. But you don't have to look far to find converts who swear by barefoot shoes.
Benefits of Barefoot Shoes
The popularity of barefoot shoes is growing for a reason. Where they're used correctly, barefoot shoes have a range of benefits that runners and hikers love, including:
Stronger leg and foot muscles
Reduced risk of developing bunions
Protection from injury
More natural feel
Better running stride
This blog by Vivobarefoot contains a bunch of adorable cartoons that sum up the benefits of barefoot shoes. Check it out for more information about the perks.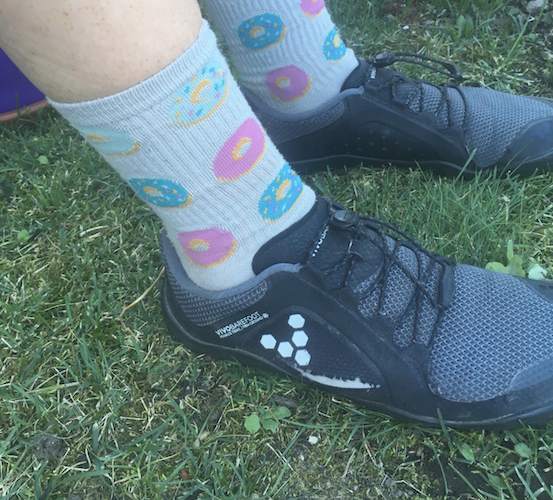 My trusty Vivobarefoot Primus Trail Firm Grounds after 2000km.
Transitioning to Barefoot Shoes
Many of us don't run as nature intended. Running (or hiking) on pavement with poor foot strike patterns - formed during years of running in highly cushioned footwear - will likely lead to injury. It's important to work up to wearing barefoot shoes. Here are some of the steps you can take to ensure an injury-free transition:
Start by slowly integrating lower or zero-drop shoes into your rotation.
Wear barefoot shoes casually on nights out, or when you're sitting in your office.
Do shorter runs on grassy ovals or gentle trails when you get your first pair of trail runners.
Have your gait assessed by a professional.
Work on shortening your stride while you run.
Read the section about transitioning in this blog post.
A Review of Vivobarefoot Shoes
Vivobarefoot is just one of the barefoot shoe brands in stock at Wildfire Sports. You can find an overview of the other brands here.
Vivobarefoot is known for its extensive range of relatively good looking barefoot shoes. In fact, I took my Vivobarefoot hiking boots as my sole pair of travel shoes for a 3-week trip to Europe in February this year (where I only had carry-on luggage). I didn't feel underdressed at all in the pubs of London or the streets of Portugal. The thing is, the Vivobarefoot range is almost as wide as their toe box - so here's an overview of what they're for and who they suit.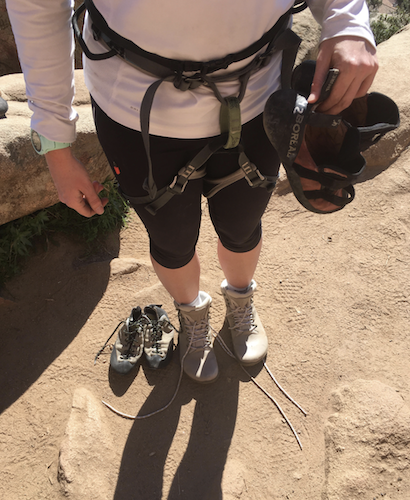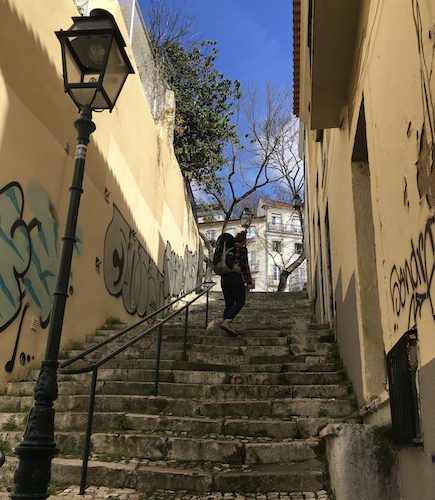 Right at home in Portugal!
The Best Barefoot Hiking Boots: The Vivobarefoot Tracker
These are hands down my favourite hiking boots I've ever owned. The fact that they're barefoot is just a perk! At present, they've survived a Canadian winter, 3 weeks of backpacking around Europe, and about a cumulative month of hiking without incident. I love that I can use them for light scrambling and really feel the ground, without it ever 'pinching' if I mis-step or land on a rock. They're bigger than my climbing shoes, but they don't look as wide or 'clowny' as some other brands.
Tracker Hiking Boots are recommended for: Anyone with normal to wide feet. Narrow feet might be better off in Merrells. They're perfect for low-key casual attire, so hiking in them is optional really. But they're great for any off-road adventures you have planned too.
Are there any cons to the Tracker Hiking Boot? The only real downside to the shoes is the price tag. They are expensive (mid to upper realm for hiking boots). But, given their durability and flexibility, I'm pleased with my investment.
The Best Casual Barefoot Shoes
Here's where Vivobarefoot excels above all other barefoot brands: their stylish casual range. I have a pair of their older season Chelsea boots and their Soul of Africa slip ons. The slip ons are 3 years old at this point and show no real sign of wear and tear (despite me having given them plenty of opportunities). All I can say is, their shoes really are built to last.
Vivobarefoot's Casual Range are recommended for: Anyone looking to transition to barefoot shoes and wanting to start during everyday activities; any barefoot converts who want a pair of barefoot shoes that's actually stylish.


Vivobarefoot Trail Running Range
My first pair of Vivobarefoot shoes was their Primus Trail Firm Ground. More than 2000km later, they've been retired to vacation runners and they are a little blown out. But, considering what they've been through, they provide incredible value for money. You can choose your own adventure with Vivobarefoot's off-road range. They come in firm ground and soft ground series - with the soft ground shoes having some very serious lugs on them.
Vivobarefoot Primus Trail Shoes are recommended for: Anyone looking to take their first steps in a barefoot trail runner.
Are there any cons to be aware of? I've done runs up to about 30km in these shoes without issue, but I always opt for zero-drop runners with a bit of cushion for longer runs. My go-to brands for zero-drop, cushioned shoes are Inov-8 and Altra. You can read my review of my Altra Lone Peak 4.0 here.
Barefoot Water Shoes
Water shoes are your feet's best friend for everything from water sports to hikes with river crossings to lazy days by the lake. And any swim runs - if that's your thing.
I honestly haven't tried these - I've done plenty of river crossings in my Primus Trail shoes and they dry out fast enough for my needs. But I've heard good things about the grip and quick-dry functionality. They really have a cult-like following within the swim-run community.
Vivobarefoot Sustainability
Beyond the incredible comfort and flexibility, Vivobarefoot also works hard to minimise the impact of production on the environment. Their sustainability mission focuses on: efficiency, materials, product life, and performance. Vivobarefoot pride themselves on the innovation and technology that have gone into making thin, flexible soles that last longer. Incorporating thermal and puncture protection were additional unique challenges that they have overcome. So you can feel good about wearing Vivobarefoot too! Find out more about the Vivobarefoot Commitment to sustainability here.