Altra Shoe Review: Lone Peak 4.0
Author: Stephanie Ford Date Posted: 5 October 2019
As an Altra-lover, I was excited to test out their new and improved Lone Peak 4.0s. If you're not familiar with Altras, they're known for their durable zero-drop shoes with wide toe boxes. Beyond increased comfort, the wide toe box also promotes a more natural toe splay.
Altra's Lone Peaks are moderately cushioned trail shoes that are equally popular with runners and hikers. The technology that goes into the Lone Peaks balances the more natural feel desired by many zero-drop runners and hikers with underfoot protection and durability.
If you're looking for the short version of the review: Lone Peaks are a solid trail running shoe that offer superior comfort, outstanding traction, and are every bit as durable and intelligently designed as you'd expect. I'll definitely be keeping them in my shoe rotation.
After more detail? Let's dive right in:
Altra Lone Peak 4.0's Features:
Weight: 289 g (10.2 oz)
Insole: 5 mm Contour Footbed
Midsole: Dual Layer EVA / A-Bound™ with inbuilt StoneGuard™
Outsole: MaxTrac™ Rubber with TrailClaw™
Cushion: Moderate
Stack Height: 25 mm
Upper: Quick-Dry Air Mesh
Drop: 0mm
Testing Altra's Lone Peak 4.0s on technical terrain
After breaking them in over a few shorter runs, I tested the Lone Peak 4.0s on some gnarly trails in Lerderderg (Victoria). These runs were each about 43km and involved water crossings, rocky ascents and descents, and technical dirt trails.
While the fit, cushion and flexibility in the shoe are all notable, I was most impressed by the traction. Jumping across puddles onto rocks and some light scrambling proved no match for the Lone Peak's TrailClaw lugs.
Performance during the Canberra Trail 100km
Their biggest test was the Canberra Trail 100km race. While I pulled out around the 70km mark, my feet didn't feel particularly battered or bruised during the race or in the days following. Considering I'd quickly ripped off my Salomon's following a recent 50km event, I was pleasantly surprised by just how well my feet held up in the Lone Peaks.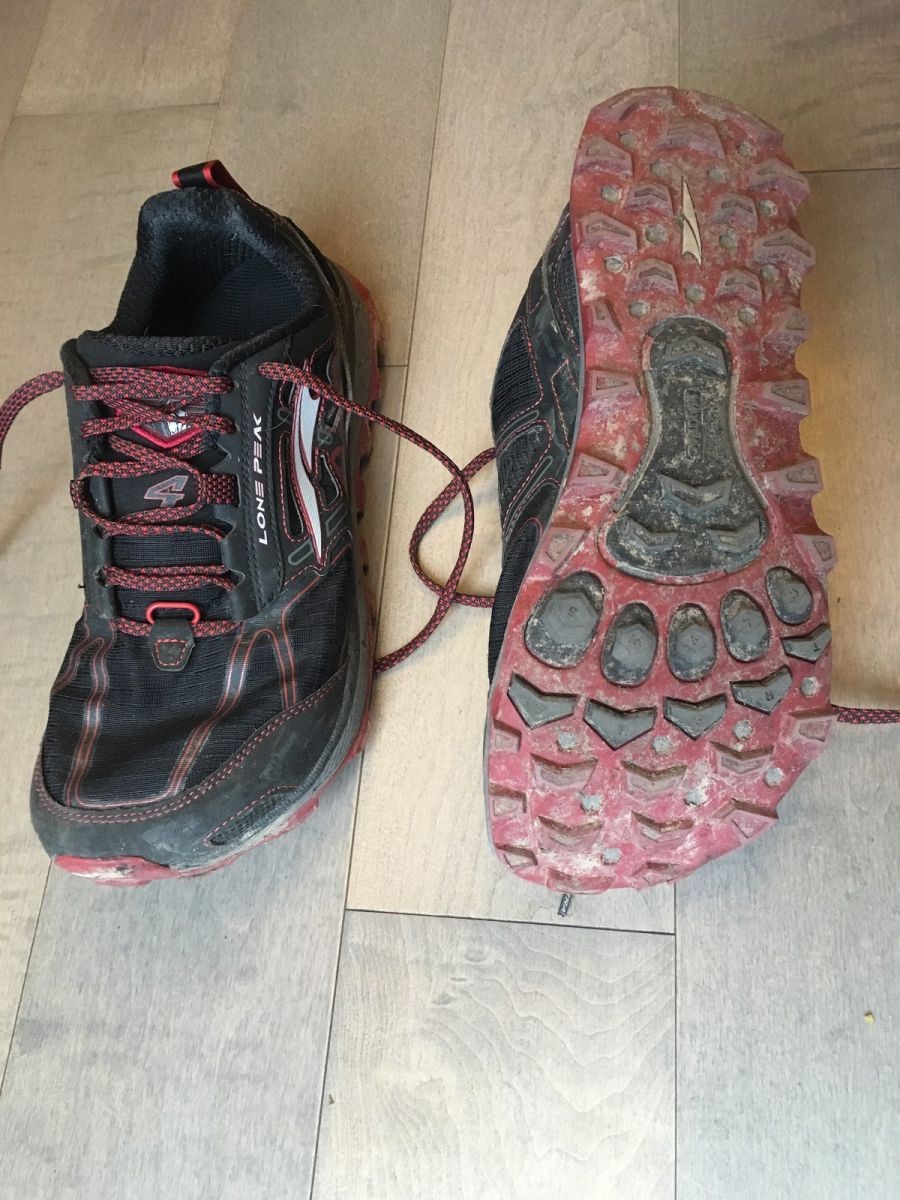 My Comments about Altra's Lone Peak 4.0s
Durability
A small number of online reviews (particularly on Altra's website) suggested that the Lone Peak 4.0s didn't offer the same durability that Altra is typically known for. I haven't found this to be true.
My pair isn't yet showing any real signs of wear and tear. Here's a photo of them today - 200 grubby km in.
Moisture Management and Breathability
The upper of the Lone Peak 4.0s is made from Altra's Quick-Dry Mesh, which feels and performs more like ripstop nylon than mesh. Protection, not permeability, was the priority in these shoes so they're warmer and dry less quickly than some others.
For me, the increased resistance to dirt and sand is well worth the slower drying. I didn't have any issues with debris getting into my shoes in the Canberra Trail 100 - a race that inspires many participants to wear gaiters. Plus, they drain well so I didn't get any blisters or chafing after water crossings.
My Verdict:
Altra's Lone Peak 4.0s are perfect for long days in the bush or on the trails. They're a durable and responsive shoe that isn't too heavy considering the amount of protection. Perfect for barefoot runners and hikers who want to feel the trail while upping the cushion.
Related Products