| Grangers
| Waterproofing, Cleaning and Protection
Granger's is an outdoor fabric protection company based in the UK that has kept outdoor enthusiasts warm, safe and dry since 1937. Granger's has provided outdoor protection to Mt. Everest adventurers, extreme backpackers and survivalists, and explorers of both the North and South Poles. Granger's products are just as suitable for everyday garments as they are for technical survival gear. Granger's is environmentally-aware and independently-tested on a regular basis. If you want to keep your gear working at its absolute best, choose Granger's cleaning and waterproofing products to restore the original performance of your garments and footwear.
Related Posts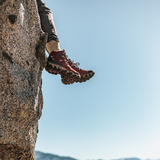 Author: Danae Baggs Date Posted: 21 November 2018
With the right care, high-quality outdoor clothing can last for many seasons. In this blog post, we run you through how to clean and waterproof the most common materials amongst outdoor clothing. Read more...