| Swimovate
| Swimming Tracking Watches
Swimovate is a UK company founded in 2008 by triathletes that develops innovative swim tracking watches. PoolMate sports watches are able to accurately and automatically calculate the swimmer's speed, distance, efficiency, and calories at the end of each lap. The Pool-Mate Pro also has the ability to record and transfers this data to a computer for easy monitoring. And because excellent quality and budget-friendly prices are the main philosophy of Swimovate, it is not surprising to find its products have become bestsellers in the UK and Australia.
Related Posts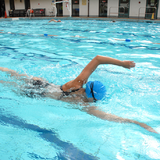 Author: Wildfire Team Date Posted: 12 June 2018
A good swimming cap, water tight goggles and some training gear to help improve technique will go a long way towards motivating you to spend time in the water practicing your swimming. Read more...