| Coghlans
| Outdoor Accessories
Coghlan's is an outdoor camping accessory company founded in 1959. Based in Canada, Coghlan's is a family-owned company that focuses on product quality and innovation. Their accessories are designed to enhance your outdoor experience, making your time outside more comfortable and enjoyable. Whether you're camping, fishing, hiking, trekking or simply relaxing at a favourite park, Coghlan's accessories are tried, tested and true.
Related Posts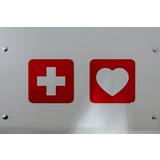 Author: Danae Baggs Date Posted: 10 June 2021
We've compiled some handy tips, tricks and instructions for common backcountry first aid procedures based on information supplied by the Australian government. Read more...