| ANTU
| Waterproof Socks
ANTU is an outdoor company specialising in waterproof socks, gloves and hats. Their products are designed for a wide range of outdoor activities under wet conditions, including cycling, hiking, and running. ANTU uses unique construction methods and high-quality materials to optimise comfort and performance. Their products can be worn all day without discomfort. Wildfire Sports & Trek currently stocks a range of ANTU waterproof socks, designed to be breathable, windproof and 100% waterproof.
Related Posts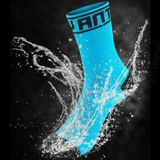 Date Posted: 1 August 2017
ANTU are relatively new to the outdoor scene, however the Shanghai-based developers have quickly gained traction with their innovative waterproof technology, not for tents, jackets or shoes, but socks. 100% Waterproof socks. Ridiculous, as anyone who has put plastic bags inside the shoes or socks in an attempt to "wate Read more...