Shipping and Delivery
COVID-19 UPDATE: You may experience a delay in receiving your parcel due to coronavirus prevention measures enacted by the Australian government and courier companies. Since most brick-and-mortar retail stores are closing, there is an increase in online shopping and parcel delivery. However, courier companies can not put more people in their facilities to ease the surge due to social distancing requirements. Border closures and reductions in air freight capacity also are contributing to the delays. This should not affect your delivery beyond taking a few extra days than you might expect in other times. Rest assured that all our staff and couriers are working very hard to make sure you receive your purchases as soon as possible.
Free shipping on orders over $80 to Australia & NZ*
Shipping on small orders (under $80) only $7.95
Express shipping to Australia & NZ only $12
---
Flexible Delivery Options
You now have the option to choose if you would prefer your parcel to be delivered by Australia Post or via the fastest delivery method available for your location (either Australia Post, Fastway Couriers or Couriers Please). These flexible delivery options are available to allow you more control over your order and give you peace of mind!
We ship with: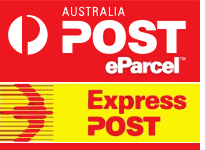 Click and Collect Brisbane - CLICK HERE for further details on how to collect your order
---
Delivery and Shipping
Use our quick guide below to work out how long it will take for you to receive your item. Simply add together the item's dispatch time (based on the stock availability) and your delivery info (BASED ON your location and the delivery method you select).
Order processing time:
To determine the availability of an item, please see the stock information near the add to cart button
In stock items: Will take up to 1 business day (Express orders received by midday are usually dispatched same day)
Preorder items with an expected date: The expected date is when we expect more stock to arrive in our warehouse. These items will be dispatched immediately once they arrive at our warehouse. If the date changes, we will let you know as soon as possible. PLEASE NOTE PREORDER DATES ARE OFTEN SUBJECT TO CHANGE BY THE BRANDS AND WE DO OUR BEST TO GET TO CUSTOMERS ASAP BUT EXACT RELEASE DATE IS BEYOND OUR CONTROL.

If for any reason we are unable to supply an item, we will let you know as soon as possible so that you can choose from a refund, substitution or CONTINUE to wait for the item.
Delivery timeframe (additional to order processing time):
Please also refer to our COVID-19 announcement RE shipping delays at the top of this page.
Your location

Standard Shipping (FREE on orders over $80, otherwise $7.95)

Australia Post Eparcel, Fastway Couriers or Couriers Please

Express Shipping ($12 charge)

Australia Post Express Eparcel

Brisbane/SEQ
1-2 business days
Next business day
Other Australian Metropolitan areas
Sydney & Newcastle: 2 - 4 business days
Melbourne: 2 - 5 business days
Canberra: 3 business days
Adelaide: 4 business days
TAS: 4 - 5 business days
Perth: 7 business days
NT: 5 - 10 business days
1-2 business days within Express Post Network
Australian Regional/Rural areas
QLD Regional: 2 - 3 business days
NSW Regional: 3 - 7 business days
VIC Regional: 3 - 7 business days
SA Regional: 4 - 7 business days
WA Regional: 7 - 10 business days
2-3 business days faster than Standard Shipping
Heavy products may take up to an additional 5 days delivery due to the shipping methods used by our delivery company. At the time of dispatch you will receive an email containing a tracking number for your order. All products are carefully packed by hand to avoid damage in transit.
We can ship to a PO Box or Parcel Locker address (some exclusions apply for certain heavy or high value items). We may contact you via email for an alternative delivery address if your order is not able to be shipped to your supplied address for any reason.
Packages which are returned to us because they are unclaimed, or due to an incorrect address, can be reshipped for a $9.95 reshipping fee (for domestic parcels, international reshipping fees may vary) or we can provide a refund less a $19.95 administration fee ($24.95 for international parcels).
Authority to Leave: By choosing Authority to Leave in the checkout, you authorise the delivery driver to leave your parcel unattended at your shipping address and you take full responsibility for the parcel once it is scanned as delivered. We are unable to pursue any claims for lost items once the parcel is scanned as delivered.
Order Changes/Redirects: Orders placed with Wildfire Sports & Trek are processed in a matter of hours so that you can get your items as soon as possible. Please contact us immediately if you wish to cancel or change your order. However, once your order has been dispatched, we are unable to modify your order. If you require any address changes, re-directions or re-deliveries, you will need to organise this directly with the delivery company handling your parcel. The delivery company is listed in your dispatch notification. Please note we are unable to pursue claims for parcels lost or delayed once redirected by customers. We strongly advise against redirections as they can add significant delays.
Lost Parcels: If you have not received your parcel within the estimated delivery time and you are worried that the parcel is missing or significantly delayed, please contact the courier for an update (contact details are available on the tracking page). If you cannot reach them or require further assistance, please contact us and we will help resolve the issue or submit an enquiry with the carrier on your behalf. Please note we must be contacted within 10 business days of the estimated delivery date in order to submit an enquiry.
---
Shipping to New Zealand
We currently have two delivery options for New Zealand: free Standard delivery on orders over $80* (sent with Pack and Track International OR Fastway Couriers), or Express delivery for $12 (sent with Express Courier International). Standard Shipping to New Zealand generally takes 3-10 business days, Express New Zealand shipping generally takes 2-4 working days. If you require a different delivery method, please contact us prior to placing your order.

*Exclusions apply for some heavy items being shipped to New Zealand: 95% of our products qualify for free or $7.95 shipping to New Zealand.
---
Shipping to other countries
This varies greatly depending on your location, the weight and size of your order and the shipping speed you require. Please select the $18 international shipping option in the checkout, and then we will contact you to confirm your order including the shipping amount (it may be more than this - you can of course cancel your order if shipping is too expensive). Alternatively please contact us prior to placing an order for a more precise quote.
Shipments sent to countries other than Australia are sold exclusive of GST (Australian VAT) and may be subject to import duties and taxes, which may be levied once a shipment reaches your country. Please note: we are legally required to declare the full value of the goods (not including shipping charges) on all packages shipped internationally, and shipments may be subject to import duties and taxes, which are levied once a shipment reaches your country. It is a criminal offence to falsify the details on this form. We cannot inaccurately describe the contents, claim a lower value or mark as a gift. Please do not ask, or expect us to do any of the above. For details of Customs charges please consult your own Customs authorities for the latest rates.
Packages which are returned to us as a result of the recipient's refusal to pay import duties and/or taxes are not eligible for a refund; we are only able to issue a store credit less any postage costs and returned parcel fees that we have incurred.
---
Click and Collect
If your order is in stock simply select our collection option and it will be ready for collection within 2 hours (business days) at our Milton store in Brisbane. Please note all items must be "In stock". If the Products are on Special Order, a member of our Wildfire team will contact you when they come into stock and are ready for collection. If you are unsure if your order is ready, please call us on 07 3339 1433.
Please note you will need to enter your billing address including postcode on the checkout page before the Click and Collect option becomes available to select.
If not collected after 2 weeks from order date, we will contact you via email or phone (if provided) at least twice. If not collected after 45 days from original order date, we are unable to continue holding your items.
Address: Unit 1, 49 Douglas Street, Milton, Brisbane
Opening Hours: 8:00am - 5.00pm: Monday - Saturday
Parking: Limited Car parking available
CLOSED Public Holidays