What To Eat During Your Long Runs
Author: Stephanie Ford Date Posted: 21 April 2020
Ultra runner Stephanie Ford shares her decade's worth of knowledge on dialling in nutrition for distance running.
Runger, lows, hitting the wall, bonking - no matter which way you look at it, nutrition and hydration play a huge role in your training and on race day. What's more, not knowing how to fuel during your long-distance races isn't a problem unique to beginners. The amazing athletes from Nike's Breaking2 project all needed to up their nutrition game for their attempt at the 2-hour marathon.
We don't all have the backing of huge companies or a lifetime of experience behind us. But that shouldn't stop you from nabbing that next distance goal! Here's what I've learned about dialling in my nutrition over the past decade of distance running:
The Best Food to Eat During Long Distance Runs
I'm not going to deep dive into the science of nutrition (mostly because I'm not an expert), but research does tend to suggest your performance will benefit from increased intake of carbohydrates during your effort (to a limit). As a (very) rough guide, a person can take on 1 gram of carbohydrate per Kg of bodyweight per hour. Many of us won't get anywhere near that. But the closer we do, the more we stand to gain performance-wise. But, as you ramp up your effort, you're more likely to suffer from stomach issues. So, getting those calories in isn't always easy.
Most runners seem to have settled on one thing to make this easier: gels.
A Comparison of the Leading Gel Nutrition Brands
Not all gels are created equal. Here's a quick overview:
Caffeine: Some people report benefits like feeling less fatigued and increased performance from ingesting caffeine during endurance events. But too much can lead to nausea, palpitations, and headaches, so you'll want to experiment during training.
Isotonic gels: This just means they come pre-mixed with the correct amount of water. They're usually easier to get down than thicker gels.
2/1 gels: These mix glucose and fructose (or similar) so you get an immediate energy hit and more sustained energy. They're usually thicker and need to be taken with water (not energy drink!).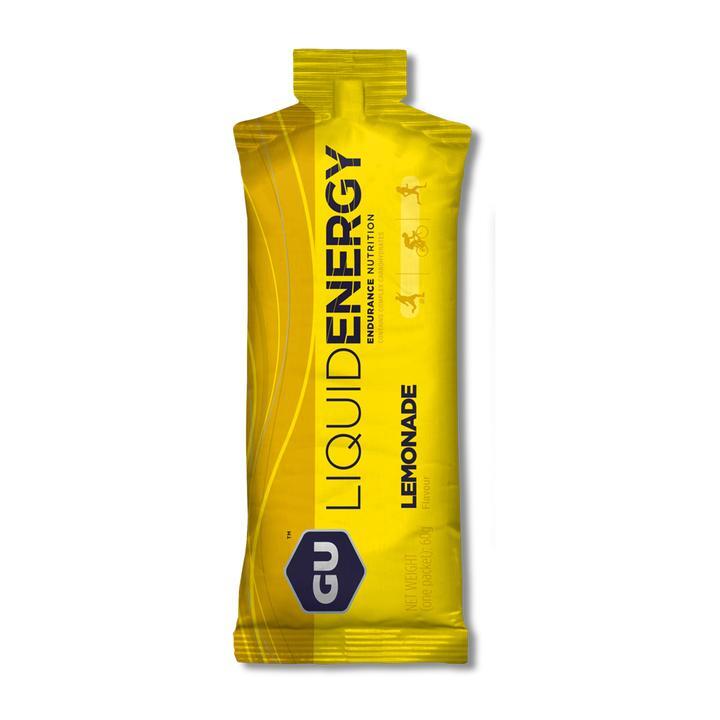 GU
GU are well known for their 2/1 energy gels. The range of flavours is insane - and includes smores, birthday cake, jet blackberry, and espresso love. I can confirm - they're all delicious. These can be taken every 45 minutes and should be taken with water. Some flavours contain caffeine, so monitor your reactions to the caffeine during your training. GU also makes an isotonic mix that's more watery and easier to get down.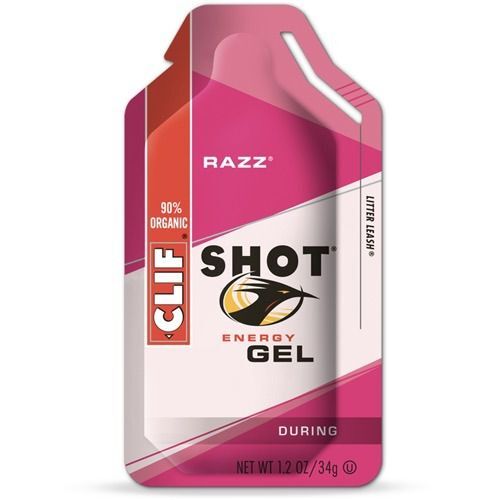 Clif
Most well known for their high calorie Clif Bars, Clif make a mean energy gel too. They've got a smaller range of flavours (Razz is amazing!) with differing levels of caffeine. I love the litter leash packaging that makes it easier to leave nothing but footprints on the trail.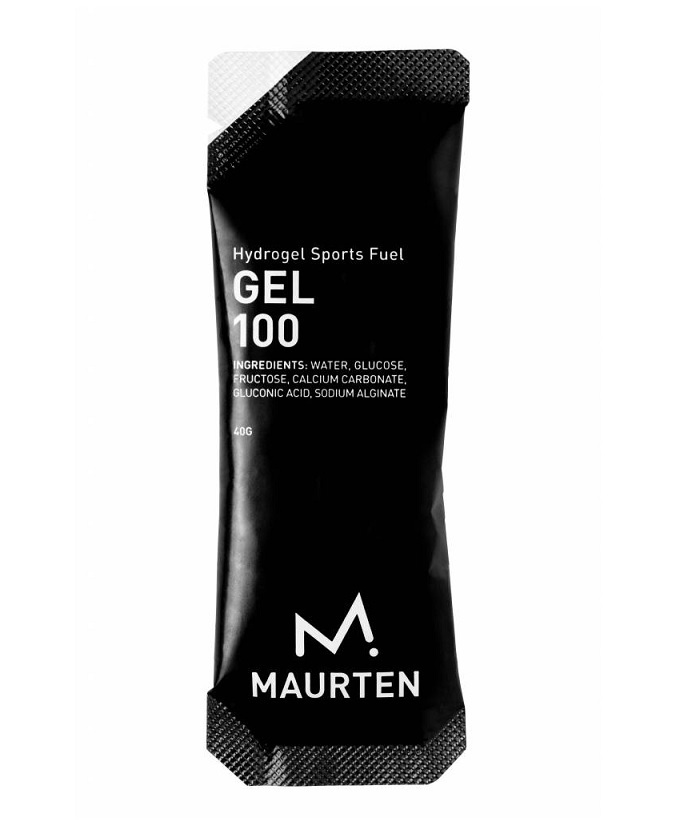 Maurten
A lot of science has gone into the making of Maurten. Their natural hydrogel is absurdly easy to get down and contains just six ingredients. If you want to nerd out about performance nutrition, check out the Maurten Innovation page. My Stance: if it's good enough for Kipchoge, it's good enough for me. Give this a try if you've struggled with the texture of any other brand.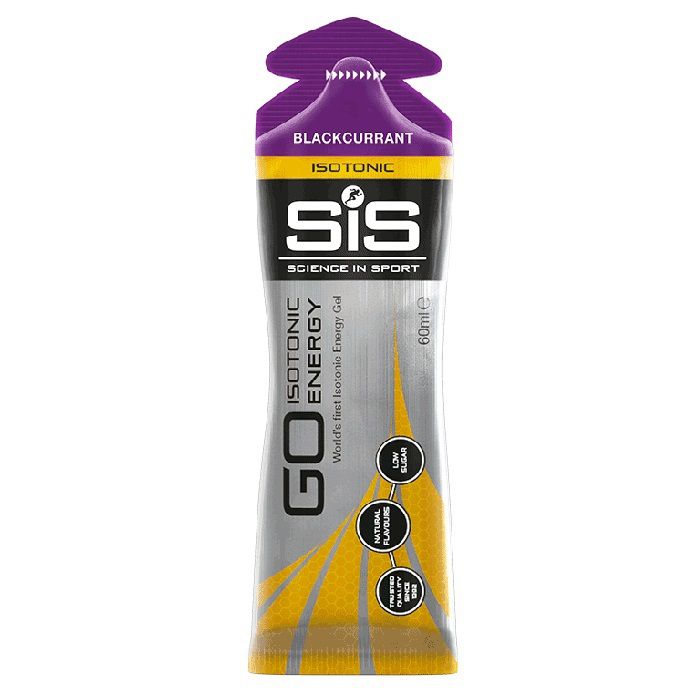 Science In Sport
SIS (Science in Sport) were the creators of the world's first truly isotonic gel. They continue making their easy to down gels that don't need to be taken with water. They're excellent for when you're battling bloat. The pouches are a little larger, but you can carry less water - so pros and cons.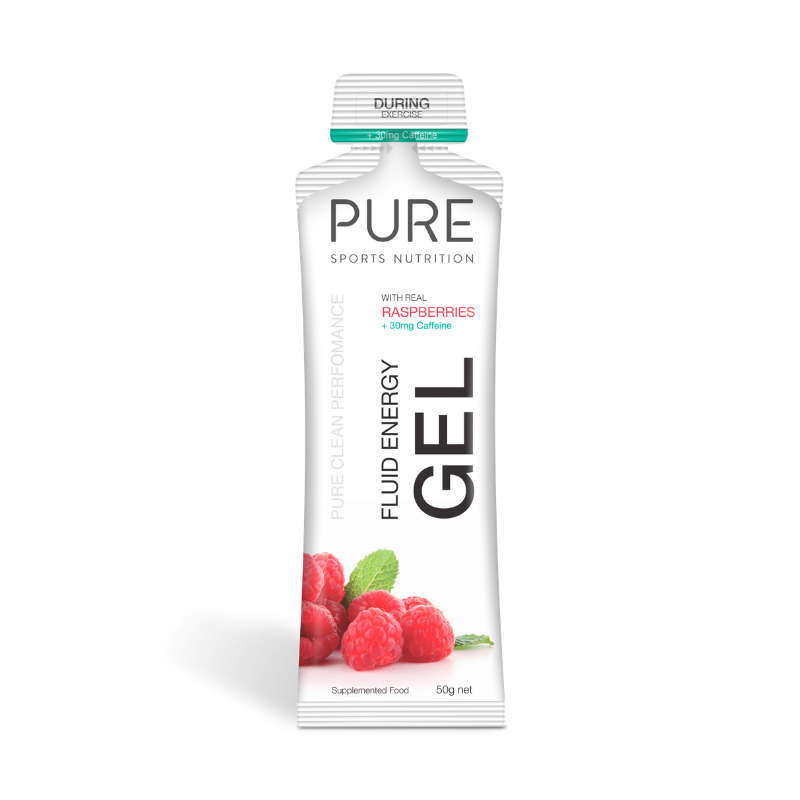 PURE
PURE makes gels that you can actually tell contain real ingredients. To be completely honest, I wasn't expecting great things the first time I tried these - since I'd heard about the chunks of real fruit. But I was blown away. They have so much flavour and they're easy to ingest. I rely on PURE's Fluid Shots when I'm suffering from 'sugar mouth' or 'garbage mouth'. (When you get it, you'll know what I mean).
What I Eat During a Half Marathon
Now, I write this as a 70kg woman so what I eat won't necessarily work for you. Take it less as gospel and more as a starting point on your road to dialling in your own nutrition. With that said, I'd typically take in one gel at the hour mark and then another every 45 minutes (unless I'm estimating that I'll finish shortly after that 45 minute period). For road half marathons, that can mean just one gel around the 11.5 km mark and then maybe some sports drink to get me over the finish line.
If I'm pacing, I'll sometimes take another at the 1:45 mark so I've got the energy to get myself (and everyone relying on me) over the line. For trail races, it usually means 1 at the hour mark and then another at 1:45, plus some sports drink towards the finish line.
What I Eat During a Marathon
I didn't eat enough during my first marathon (5 hours 15 minutes in the hills - I thought I'd signed up for something flat and was expecting to be done in just over 4 hours!). The result was gut issues for the last 10km.
I'm really diligent with eating early on in the marathon, so I would usually take a gel on the hour then every 45 minutes thereafter - even if I don't feel like eating. I do this when I train too so that my stomach is well-adjusted and less likely to have a tantrum when I'm trying a little harder.
Now, a few gels are usually enough to get me over the line but I carry a Clif bar and some lollies just in case I have any gut issues. The longer I run, the more likely it is that I'll need something solid. If you're expecting to go longer than say 4 hours, take some solid food with you.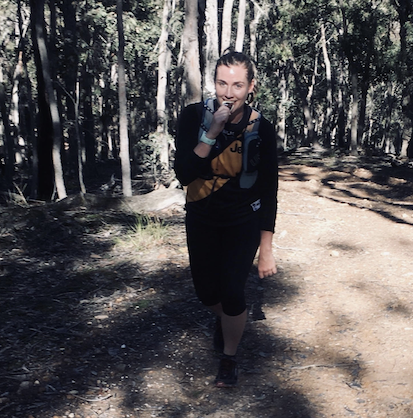 In this photo:
2 Gu pouches
1 PURE
1 Maurten
1 Clif Bar
45 beautiful km of Lerderderg Gorge and infinite smiles!
What I Eat During an Ultra Marathon
My advice gets significantly less specific here. You'll still require calories but, at some point, your stomach is going to say hard no to any more gels or sugary nutrition - and you'll really need salt.
For my ultra attempts, my approach has been simple - eat whatever I feel like eating.
I'll take in gels for as long as I can tolerate them (usually I give up on them around the marathon distance). I switch across brands and flavours to try to satisfy any cravings that come my way. But I also rely on:
Watermelon, Oranges, and Mandarins
Pickles
Salted Mashed Potato
Baby Food
Salt Tablets (Read this blog for more information)
Coke (if you don't usually like soft drink, you'll love it 50km in)
Bean 'Burritos' (refried beans wrapped in a tortilla)
Hard Candy (it's nice to chew sometimes).
Check out what food will be provided during your race and test your stomach on it during your longer training runs.
That said, sometimes it's best to just be guided by whatever your body wants. I once discovered an aid station stocked with potato gems/tater tots/whatever you want to call delicious fried rectangles of potato at a really low point in a race. I just knew I needed them! And 5km later I was cruising along faster than I had been for an hour prior. But it was risky.
Finally, if you're likely to be at the back of the pack, it's usually best to prepare yourself for the fact that the aid stations might be a little bare when you arrive. I once missed out on a precious cup of coke at the 65km mark of a race and I honestly could have cried. I'd stocked up on sports drink at the 50k aid station though and managed to make that make do.
Fuel for You
While I've written this from the perspective of a runner, my mountain biker boyfriend tends to have the same approach when he's fueling for endurance events.
For those of us who don't have the Nike 2 project budget, you've got to listen to your body and experiment. Some days you'll feel average. Some days you'll feel amazing. But you should listen and learn every day.