| Tendon
| Static and Dynamic Ropes
Tendon is a young but well-known and globally successful brand of static and dynamic ropes. Tendon promotes active mountaineering which is not only a sport, philosophy or life style, but in addition represents the unrestrained forces of nature. They are one of the leading world manufacturers on the market of mountaineering equipment and personal protective equipment for work at height, military purposes and rescue activities. These high-performance and innovative products are being developed and produced in the Czech Republic.
Related Posts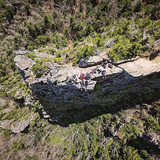 Author: Shaun Pleschka Date Posted: 16 February 2019
Staff member Shaun has been climbing outdoors for 11 years and has worked as a climbing instructor for two years. Here's his checklist of gear, complete with explanations, alternatives and his own personal preferences. Read more...