| Steripen
| World-leading UV handheld water purifiers
SteriPEN is the world's leading manufacturer of ultraviolet, handheld water purifiers. SteriPEN purifiers quickly and easily make safe drinking water available for travel, outdoor recreation, and home emergency kits at a fraction of the cost of bottled water.
Related Posts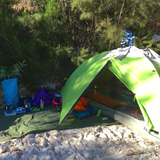 Author: Stephanie Ford Date Posted: 8 August 2019
We've compiled this packing list for you for multi-day or thru hikes in summer, spring or autumn. We'll also provide some tips and tricks along the way about what to look for in your hiking gear - so keep an eye out for those! What to pack for your multi-day or thru hike Clothes This is where people really overdo it, so we'll start here. My first tip: You need Read more...