| Ocean Signal
| Rescue Devices
Ocean Signal (ACR Group) is a worldwide leader in satellite and terrestrial emergency rescue beacons based upon VHF/UHF, Iridium, DSC, AIS, GNSS and battery technologies. The Ocean Signal team consists of one of the most highly experienced electronic engineering teams in the marine communications industry, led by radar enhancement technology leading expert Simon Nolan. Using Ocean Signal products gives you the confidence that your equipment will work to and beyond your expectations when it most matters.
Related Posts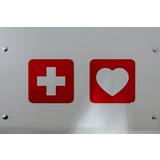 Author: Danae Baggs Date Posted: 10 June 2021
We've compiled some handy tips, tricks and instructions for common backcountry first aid procedures based on information supplied by the Australian government. Read more...