| Aussie Grit
| Performance Apparel
Aussie Grit is an Australian performance apparel company that helps you take on the outdoors, the elements, and everything mother nature has to throw at you. The term Aussie Grit was often applied to Mark Webber, 9-time Formula One Grand Prix winner and FIA World Endurance Champion. When training outdoors, Webber noticed small imperfections in what he was wearing. Through motor racing, Webber knew that tight margins can be the difference between success and failure. So he knew where his next challenge lay: a range of sporting apparel specifically designed for running and cycling.
Related Posts
Author: Stephanie Ford Date Posted: 24 September 2019
I was not disappointed. The trail-specific tights are designed to prevent chafing and the performance fabric is grippy - so the tights don't slide around once you're running. I tested them on some pretty epic hills in Lerderderg and the You Yangs and was impressed that I didn't need to adjust them at all. Features The tights are loaded with featu Read more...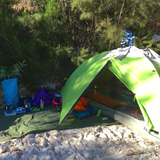 Author: Stephanie Ford Date Posted: 8 August 2019
We've compiled this packing list for you for multi-day or thru hikes in summer, spring or autumn. We'll also provide some tips and tricks along the way about what to look for in your hiking gear - so keep an eye out for those! What to pack for your multi-day or thru hike Clothes This is where people really overdo it, so we'll start here. My first tip: You need Read more...