PRODUCT REVIEW: TEVA Hurricane XLT2 Sandals
Author: Genia Hill & Mitch Neumann Date Posted: 12 October 2020
Teva gave two Wildfire staff members a chance to try out the new Hurricane XLT2 Sandals, and they've given them a good run for their money! Read on for an in depth review...
Mitch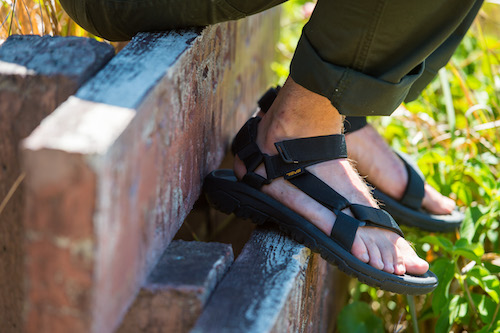 I haven't owned a set of sandals since I travelled Europe with my family as a 10yr old but when I was given the opportunity to own a pair of sandals from the iconic brand Teva I thought I'd give them another try.
The Hurricane XLT 2 is the pair I selected which is a lightweight 3 strap style designed for almost anything. Having tested it out during long hours on concrete at work (albeit with socks) and in day to day use including a small multi terrain hike I can say certainly say I am coming around. The combination of EVA-foam and Durabrasion rubber means that they are not only comfortable for all day use but they are grippy on any surface. I am yet to receive one hotspot and can admit I am looking forward to the additional cooling they will bring in the Brissy summer. The three independent velcro neoprene straps not only allows them to be comfortable and sturdy but also makes adjustment on-the-go super simple.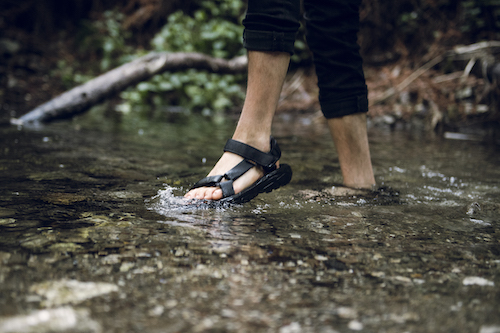 The Hurricane XLT 2 is a classic straight forward design that is one of the most affordable sandals in the Teva range. It has the added benefit of being an eco-friendly and vegan certified product. The straps are made from 100% recycled plastic, with each sandal saving 2 bottles from landfill. So not only will I be staying comfortable, stylish and cool in my Tevas I am also promoting a cleaner and better tomorrow.
Genia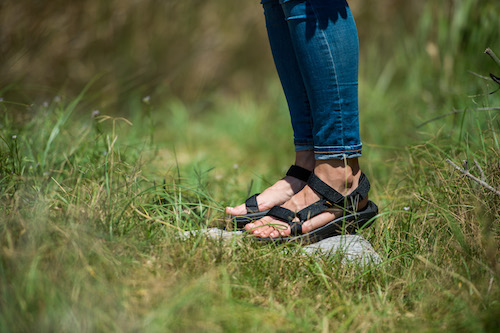 I hate shoes. Well... that might be a bit strong of a sentiment, but after the first week of winter, my toes just want to be free! So it's not that I hate shoes, but my toes certainly hate being restricted (aka, being inside shoes). That being said, going barefoot isn't really my jam either (does not everyone feel that each rock, pebble, or bindi is a bit like a spiky Lego underfoot?!). The best solution for me, is sandals.
Sandals are great. They're great for hiking in cool weather, great for rock hopping, great for the beach, for dinner dates, and even as a perfect shoe to wear with socks. In our Queensland climate, sandals are the best for everyday wear, AND for adventuring. I tried out the Hurricane XLT2s for all these activities, and pretty much since I got them, I haven't taken them off. I got them in black, and they're aesthetically neutral enough that I can also wear them as a casual, everyday sandal without much thought.
Here's what I like so much about them:
For a hiking sandal, they look great! They're supportive, but not bulky. They're rugged, but not "r-ugly".
The rubber outsole. They have awesome grip. I've used them for crossing creeks at Lamington (on Wangerriburras and Nerangballum Land) and for tide pool spotting at the beach, and I feel like the traction on the rocks is great.
It's supportive and durable. Particularly with tide pool spotting, you can often feel the rough rocks under foot, but there was enough support and cushion for it not to worry me in these shoes. The support was also enough to walk all day in the XLT2s and keep so comfortable!
The straps are fully adjustable. The toe strap, heel strap, and ankle strap are all fully adjustable, which is great, especially in this weather. I've used them as my pre/post hike shoes and after 20 km's in boots, it's nice to be able to easily loosen the straps where they feel a bit snug. On top of that, there's also a nifty little pad on the heel strap that prevents uncomfortable heel rubbing. After experiencing this, I realise that it is such an underrated feature that I think all sandals should have!
For a hiking sandal, they're lightweight enough that you can chuck them in your pack and effectively forget about them. I use them for around camp and as my before and after hiking shoe, and I don't have to worry about lugging a heavy hiking sandal up a mountain.
My favourite moment in my Tevas so far was after a 600 meter scramble five hours into a hike. I was hot in my boots and ready to be out of them, and we were just about to jump into a creek. While waiting for my friends to finish their descent, I changed into my togs and Tevas and was ready to swim straight away! There was a little bit of a walk down to the swimming hole, but with the ruggedness of the XLT2, I felt protected enough to do that little walk with my pack down to a glorious swim, and my feet were free!
I highly recommend the Hurricane XLT2s as a durable and comfy shoe that can be worn for hiking and hopping, whether it be to the shops or over a creek in our beautiful backyard in the Sunshine state.