HOW TO CHOOSE... Track & Field Spikes
Author: Danae Baggs Date Posted: 23 August 2019
Buying a pair of spikes (athletic shoes with spikes on the sole) needs a surprising amount of consideration. The right spikes can make all the difference between a slow, sloppy run and a legendary PB.
Fit and Sizing
Spike shoes should feel snug and secure, without cramping your feet. Your toes should be close to the front but not actually touching the end. Forget wide toe boxes and toe splay on the track. Spikes aren't built for comfort, but to secure your foot and provide great traction.
Spikes tend to run narrow. If you have a wide foot, you may have to size up. Be aware that this may result in wearing shoes longer than what you're used to, with a potential for heel slippage.
TRACK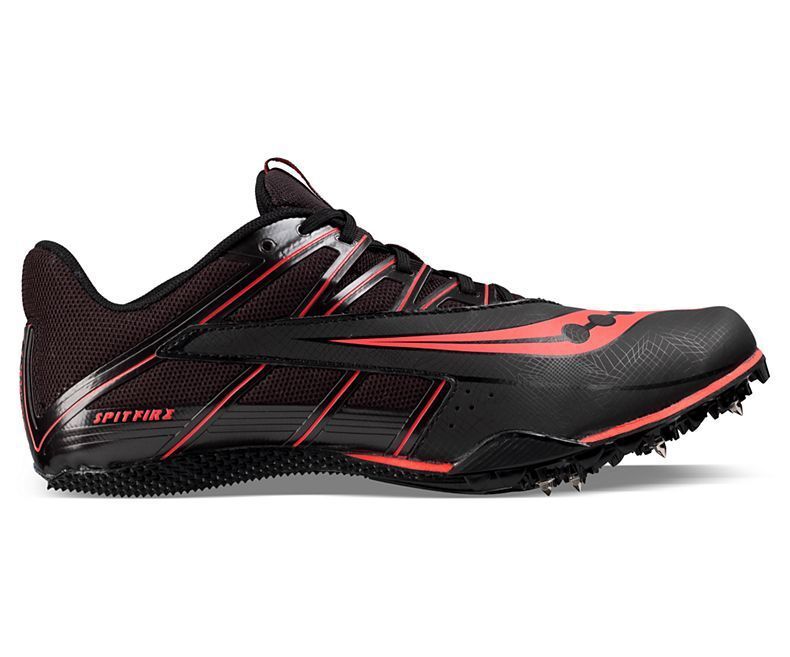 Recommended replacement spikes: 5mm or 7mm Christmas Tree
Sprint spikes keep you on your toes, providing aggressive traction and reducing ground contact time. They feature:
Stiff spike plate running from toes to heel (stiffest at the toes)
8+ spike holes
Contoured upper that locks feet securely in place
Snug fit that cradles your feet.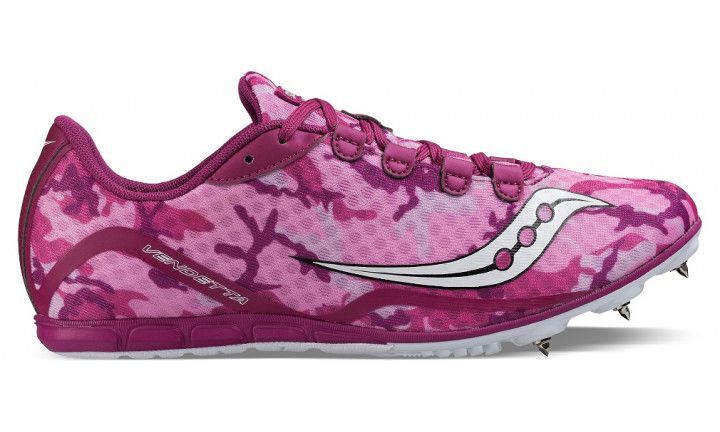 Recommended replacement spikes: 7mm Christmas Tree or 7mm Pyramid
Mid-distance spikes are versatile enough to be your best option if you're unsure which spike shoe to get, or if you're competing in multiple events and don't have the budget for multiple shoes. They feature:
Stiff spike plate, typically curving slightly towards the forefoot
Enough give and flexibility to run both short and long distances
Minimal heel cushioning
6-8 spike holes
Soft, light upper that keeps your feet in place.
Recommended replacement spikes: 5mm Pyramid
Long distance track spikes are basically extreme racing flats. Light, soft and nimble, they lack the support and aggression of shorter distance spikes. They feature:
Just enough traction for some grip on the turns
Usually only around 4 spike holes
Flexible sole for natural movement
Lots more cushioning on the heel compared to the sprint spike
Minimal support but featherlight weight.
FIELD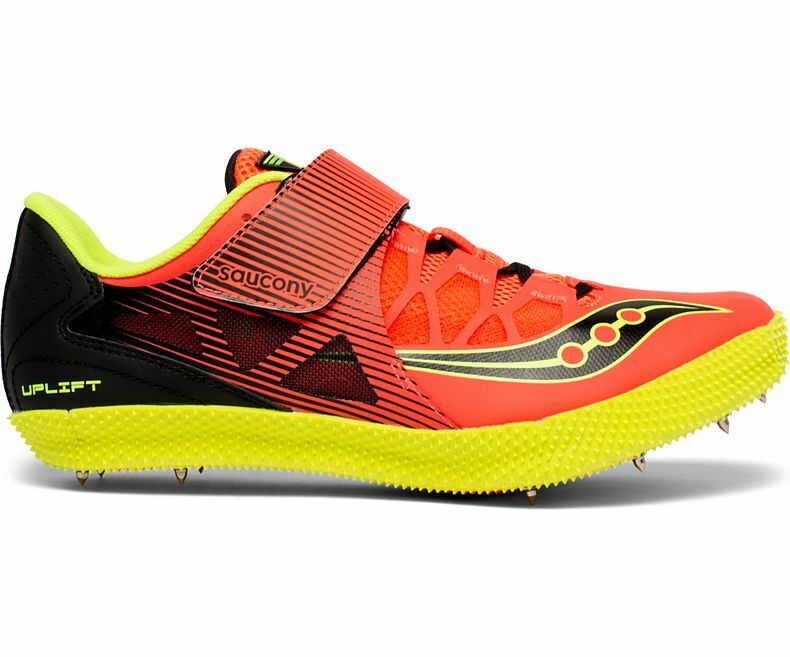 Recommended replacement spikes: 7mm High Jump or 7mm / 9mm Pyramid
High jump spikes provide support and traction during the approach and plant, keeping your shoes secure as you flip over the bar. They feature:
Spikes in the ball of the foot (like running spikes)
Additional spikes in the heel
Lots of lateral support on the upper.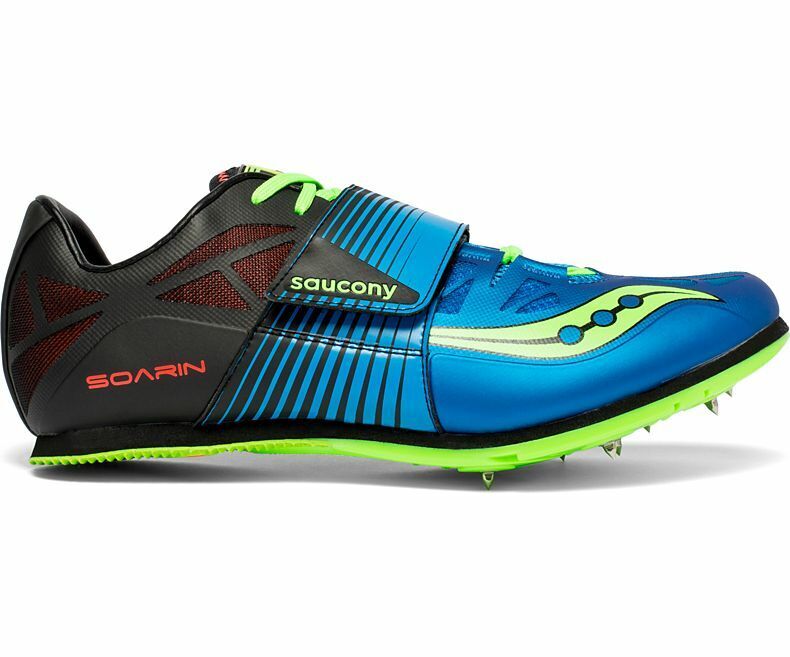 Recommended replacement spikes 7mm Pyramid (or 7mm Christmas Tree for Pole Vault)
Spikes for pole vault, long jump and triple jump provide extra support during take-off and landing, plus traction on the runway. They feature:
Recommended replacement spikes: 7mm, 9mm or 13mm Pyramid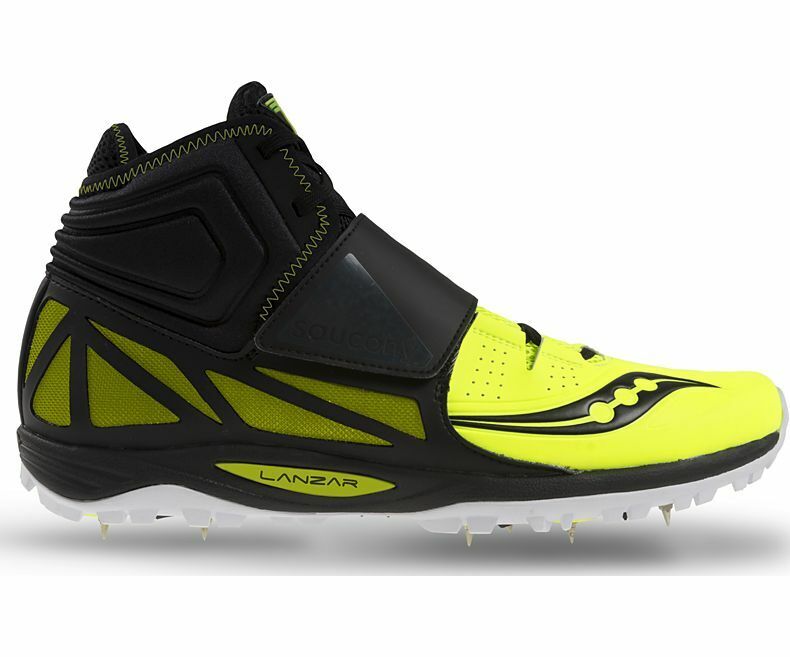 Javelin spikes are essentially boots with spikes for traction during the approach, plus solid plants. They feature:
Full length spike plate
Secure, fairly heavy upper to keep your feet supported.
Shotput and discus shoes don't have spikes. Their soles either provide extra spin (for discus) or grip (for shotput).
Recommended replacement spikes: 5mm, 7mm, 9mm or 13mm Pyramid
Heavier, more durable and more cushioned than track spikes, cross country spikes look more like a lightweight racing flat. They feature:
Cushioning around the forefoot, midfoot and heel
Firm back support
Rubber spike plate with cross country pins.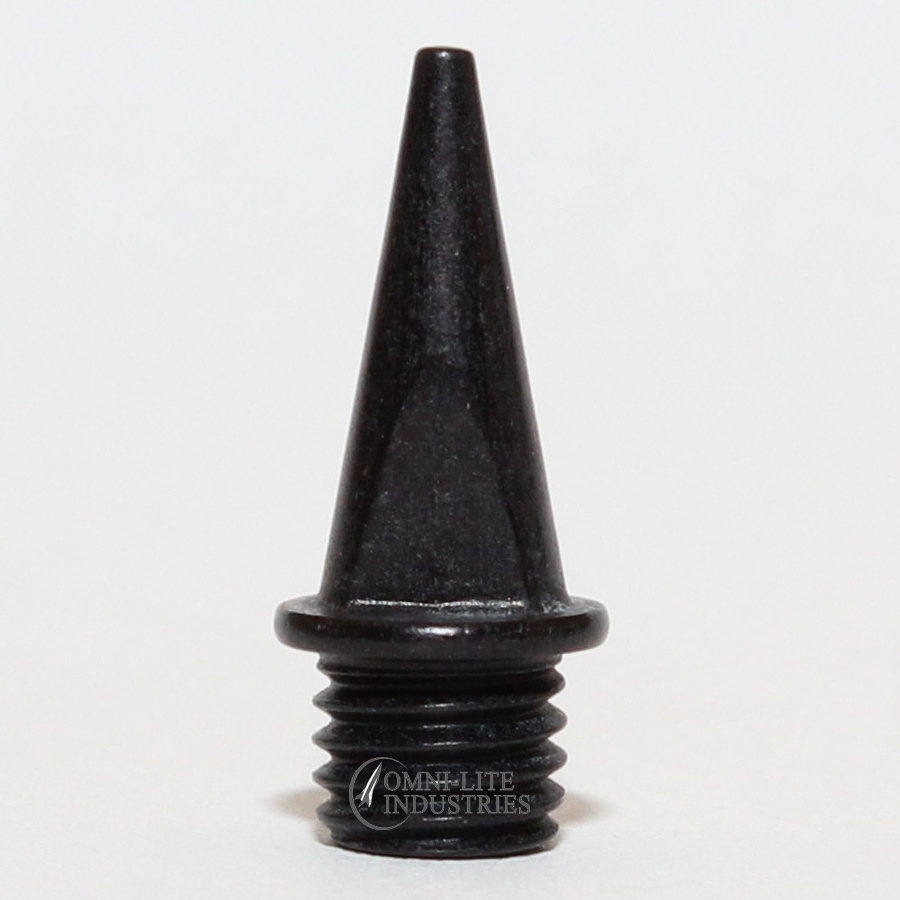 Think all those metal spikes on your soles are the same? Not so. Spikes come in a variety of lengths, shapes and even materials. Always check the guidelines for your track or race before purchasing spikes to ensure the length and shape is permitted.
Length
The default spike length is ¼ inch or 6mm. Other common lengths include 5mm, 7mm, 9mm, 15mm and 18mm. Go shorter for harder surfaces, and longer for softer or soggier surfaces.
Shape
Pyramid - The most common spike shape: great all-rounders suitable for all events. Bouncy rather than aggressive on tracks. Doesn't wear down as quickly.
Needle/Pin - Thinner and grippier than pyramids. Used primarily on all-weather tracks. Typically better for lighter runners than heavier runners.
Christmas / Xmas Tree – A mix between the Pyramid's bounce and the Needle's grip, designed to compress the track's surface for bounce-back. Suitable for sprints, hurdles, pole vault and middle distance events.
Tartan – A different Pyramid/Needle mix; dull spikes for rubber surfaces only that prevent sticking.
Grass - Extra sharp spikes, like the ones found on some hockey and footy boots.
Blanks/Studs - Flat studs designed to cover spike holes to keep out debris and protect the screw threads when you don't want to wear spikes in your shoes. These are helpful when you're on indoor tracks where no spikes are allowed, during cross country meets with lots of sidewalks, or when you want to take out a few spikes for a little less traction.
Restrictions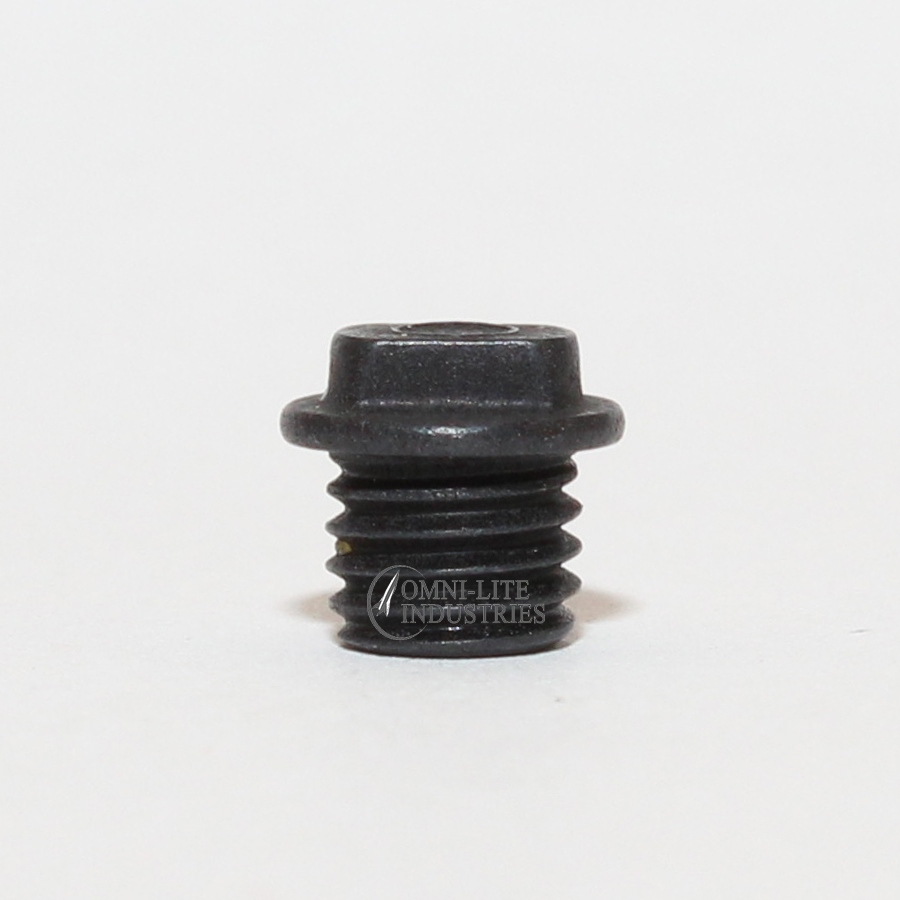 Please remember to check each event or track's rules and regulations.
International Association of Athletics Federations: no longer than 9mm, no more than 11 spikes
Australian Masters Athletics: no longer than 7mm for track or 9mm for javelin and jumps. No needle spikes on some tracks.
Little Athletics Australia: no more than 11 spikes, no more than 2 blanks. On synthetic track: 7mm maximum for runs, 9mm maximum for jumps and javelin. On grass: 12mm maximum for all. Junior athletes under 10 may not wear spike shoes. Under 11-U12s may only wear spikes for long jump, triple jump, high jump and javelin.
FINAL TIPS
Break in your spikes before racing in them. If you have any problem areas on race day, use an anti-chafing balm like BodyGlide.
Check your spikes for wear and replace them around every two seasons.
Once the actual metal/ceramic spikes dull, they will lose their traction. Don't try to sharpen spikes: they will likely break, and replacement spikes are cheap.
Carry some extra spikes and blanks with you to events, meets and races; then, if you need to change your spike configuration, you won't be stressed.
When changing spikes, insert the pins only slightly past where turning becomes tight. Any further and you risk damaging the threads or footbed. Use a proper spike spanner.
It's your personal choice whether to wear spikes with or without socks. Decide where you stand before making sizing decisions; even the thinnest pair of socks will change the fit. In between? Try out ultrathin Steigen socks.