Cooloola Great Walk
Author: Jess Dustow Date Posted: 1 April 2020
Imagine yourself walking through a rainforest filled with exotic birds, on sand dunes high above the ocean with views to the horizon, swimming in a freshwater lake and falling asleep under the stars.
Sound good? Well it's all just a two hour drive from Brisbane in Queensland, Australia. The Cooloola Great Walk runs from Tewantin, near Noosa, to Rainbow Beach and is one of Queensland's Ten Great Walks.
I woke up early on Saturday morning. With five days off, I made a last minute decision to go hike the Cooloola Great Walk. Since moving to Brisbane in 2018, it had been on my bucket list. So in 30 minutes, I packed my bag (my haste would later result in several items being forgotten) and was in my car heading north. A quick stop in at the supermarket for supplies and I was at Tewantin waiting for the Noosa North Shore Ferry to take me across the river to the trail head.
The Ferry Ride
While on the ferry I noticed two mates having a laugh in their 4WD. I leaned over and asked if they could to drive me 2km down the road to the start of the trail. They were happy to help. The 2km hitch turned into a 7km 4WD down the beach with my two new friends. I have always loved this about hiking. You are often in situations where you rely on strangers for assistance, but most people are always happy to help and often go the extra mile. I think deep down we all long for a connection to people and sometimes a 15 minute interaction can stay with you for a lifetime. I know I didn't wake up that morning thinking I would be zooming down the beach with two blokes from Britain who I'd just met. But it will make me smile for years to come.
Day One
Once on trail, the adrenaline of my morning started to wear off. I had been racing all morning to get out there and had forgotten to eat lunch! My favourite way to refuel on trail is with Tailwind. They provide handy individual sachets that you just pour into 500mL of water. It has everything your body needs to replenish. I sat down with my drink and collected my thoughts. I was so excited about spending the next 5 days in nature. I needed this.
My afternoon was filled with goanna sightings, butterflies and spiders the size of my hand. My views were of the ocean and low cut bush that has been windswept for years. Not long after I'd had lunch it started to rain, and this was when I realised I'd forgotten any form of rain protection for my backpack. But I wasn't too worried: I have learnt to appreciate the rain whilst hiking. It makes everything shine and glisten. So I marched on, weighing up how much of a risk it was to continue playing music in the rain.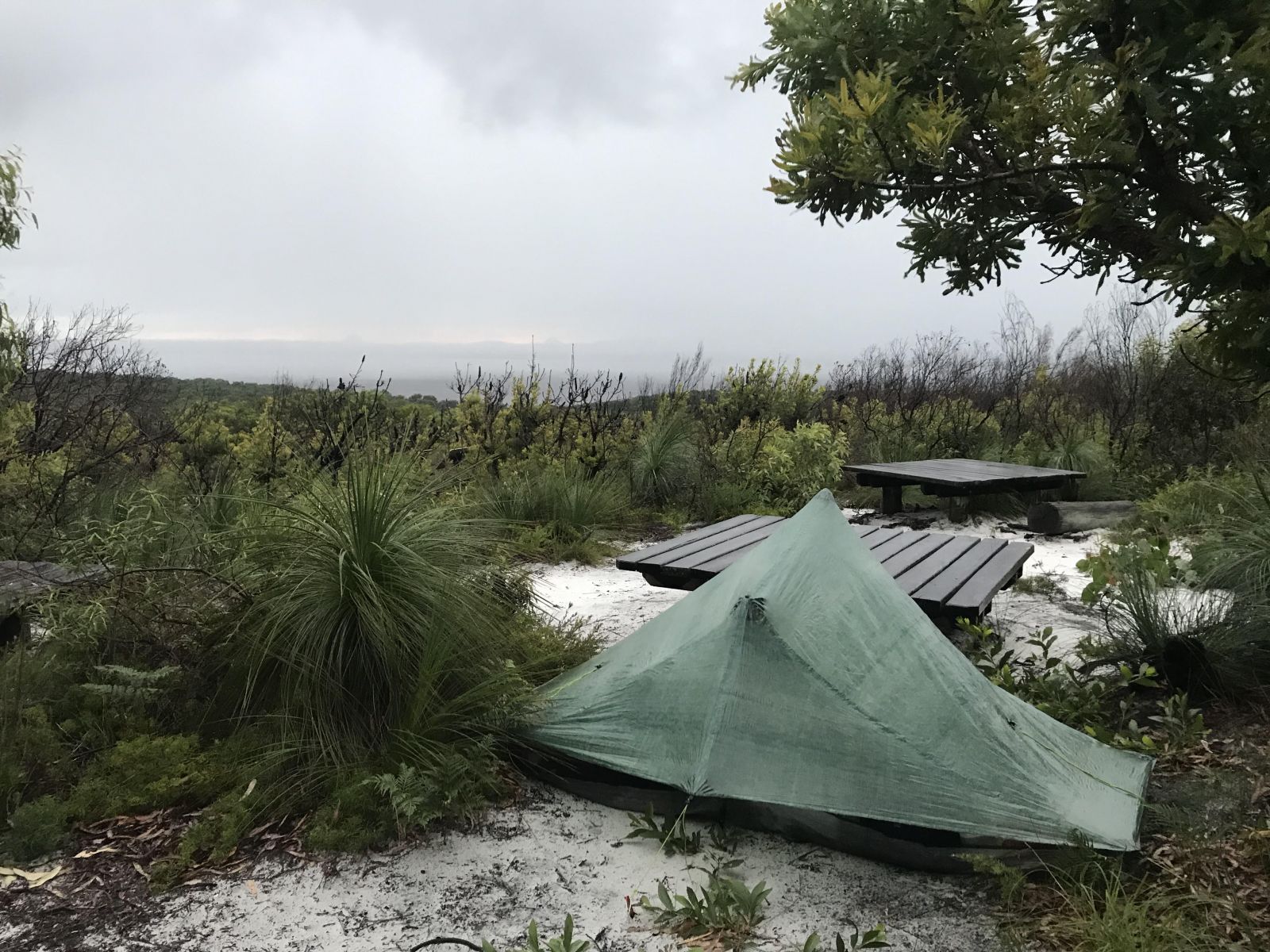 Setbacks
I arrived at camp and sought shelter in the pit toilet (glamourous I know, but you ask any hiker, when its raining, the pit toilet is the place to be). There was a small break in the rain, so I set up my tent, shoved my gear inside, laid down and watched several episodes of Archer I had saved on my phone. I had been looking forward to a hot dinner all day, so as the sun set and there was a break in the rain, I got everything out ready to cook up a storm… and discovered that I had forgotten my lighter! I did that thing with my face where every muscle contorts and you hold your breath till you accept the situation. No dinner! This definitely bothered me. It bothered me even more as I realised I would need a lighter to cook four more dinners. It was at this time the rain decided to add to my misery and started up again in full force. I threw everything back into my tent and ran to the privy to think. No lighter, no rain cover for my pack… what else had I forgotten? Not to mention all my gear was now wet. I seriously contemplated going home. I sulked back to my tent and tried to fall asleep, which is always hard when your wet tent keeps hitting you in the face.
Day Two
I felt warmth on my face. The sun! I opened my zipper as fast as I could and burst out of my tent to blue skies. Hell no I'm not going home, I thought. I absolutely love waking up in nature and this morning was extra sweet because I was filled with hope that this was going to be a great hike. I took in the view from Brahminy campground, the most scenic campground of the walk, and a huge smile crept across my face. I packed up my things and continued hiking north, towards Rainbow Beach.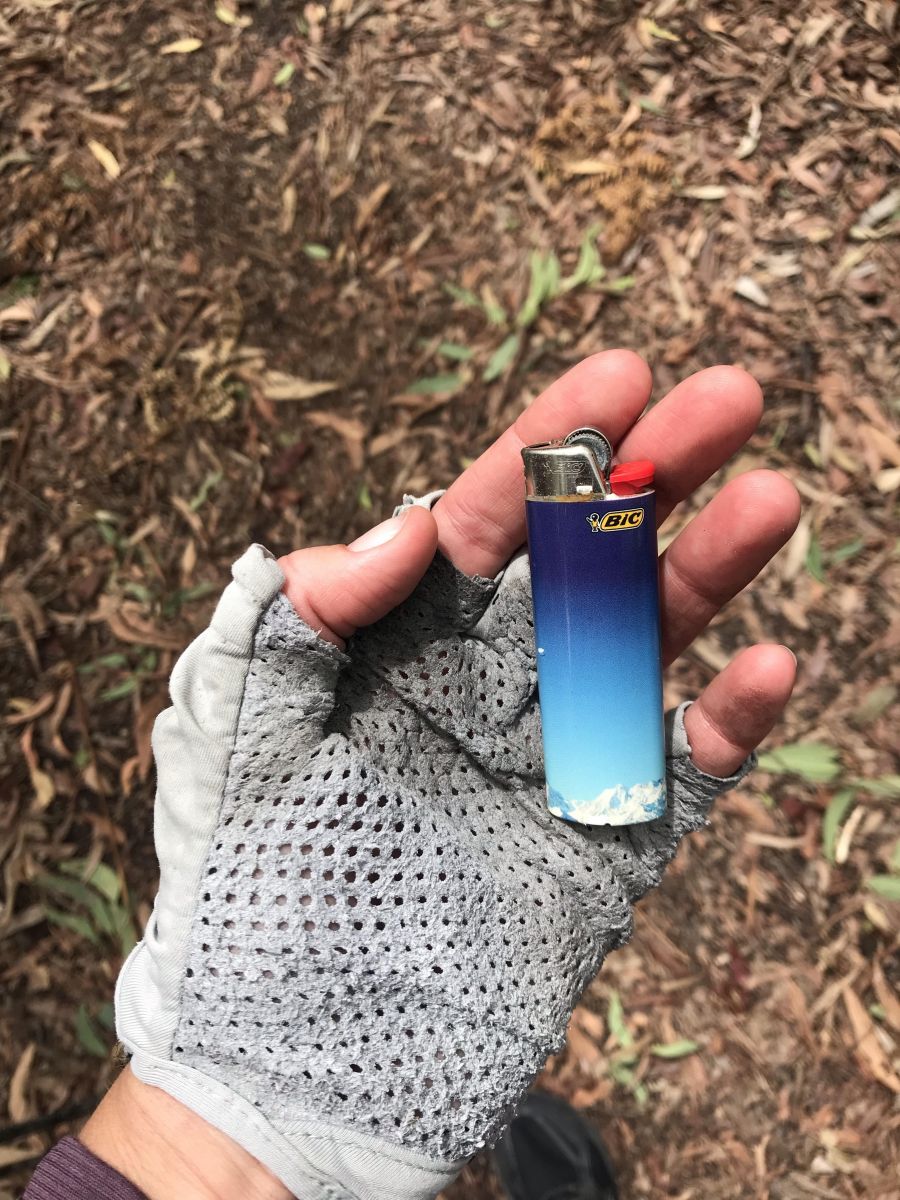 A couple of hours into my second day, I came across two dayhikers. I will always stop for a chat and these guys were happy to say hi. They were taking advantage of the drive in campgrounds that are also available along Cooloola Beach. We exchanged your typical where are you going, where did you come from before I started getting antsy and it was time to keep moving. But before wesaid our goodbyes, I remembered my lighter situation and sheepishly asked them if they had a spare lighter. One of the guys replied "yeah I think I've got one somewhere". He patted down his pockets and opened every zipper of his backpack while I watched him, probably a little too eagerly. Bingo! He found it! He handed it over to me as I reacted like someone who just won the lotto. I don't think they had ever seen someone get so excited over a lighter.
I held the lighter close like Gollum in Lord of the Rings as I thought about the hot dinner I would be eating soon. My favourite is spaghetti bolognaise from Back Country Cuisine, a freeze-dried camp meals brand that's both tasty and nutritious. But you should check out all the flavours they offer to find your own favourite!
The Rest
Cooloola Great Walk is such an amazing mix of landscapes. The first half of the walk, you wind through hard packed dunes, taking in the ocean on one side and Lake Cootharaba on the other. It then winds you through gum trees and rainforests, where I saw a diamond python. Poona Lake is an absolute highlight of this trail. Its protected sandy banks, fresh water and peaceful surroundings make it the perfect place to relax and unwind for a few hours.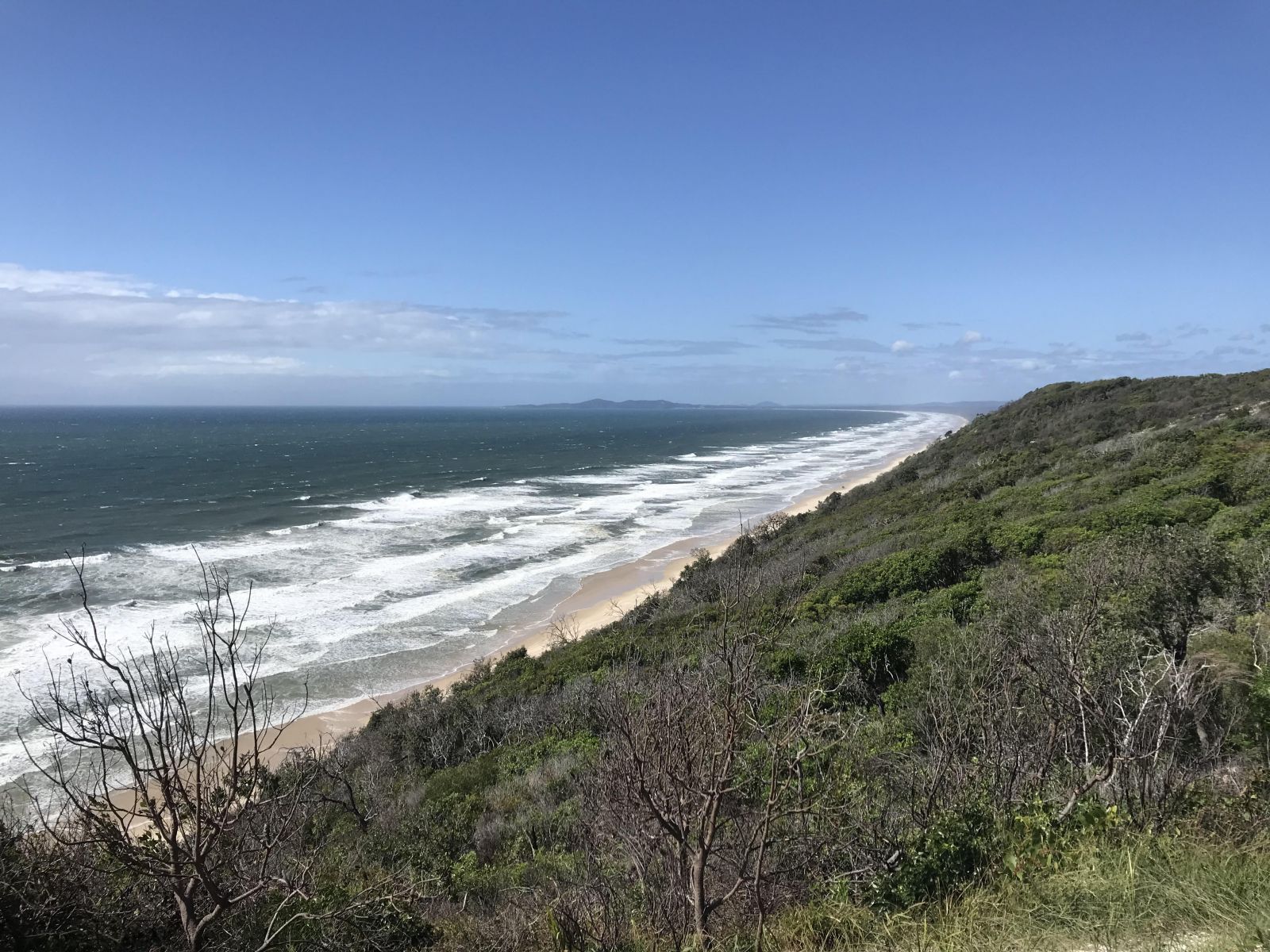 Each campground is set up with a water tank, benches and individual campsites, perfect for those who want to enjoy the peace and quiet of nature. Unless you camp near a lyrebird. One morning I was awoken by the loudest whip I had ever heard. A lyrebird must have been only meters away from me. He continued to serenade me for what seemed like hours, until I realised my attempt to fall back to sleep was futile.
I had also forgotten hand sanitiser, so you can imagine my delight when on the last night I decided to camp at Freshwater campground, which has showers, and found some body wash. I paid two dollars for a hot shower and washed away four days' worth of sweat, sand and some tears. It felt amazing. After my shower I walked down to the beach for dinner. As it got dark I pulled out my head torch, only for it to die several minutes later. I had not brought any spare batteries... surprise surprise. So I walked back and had dinner in the bathroom under a sensor light, which got me up and moving every five minutes.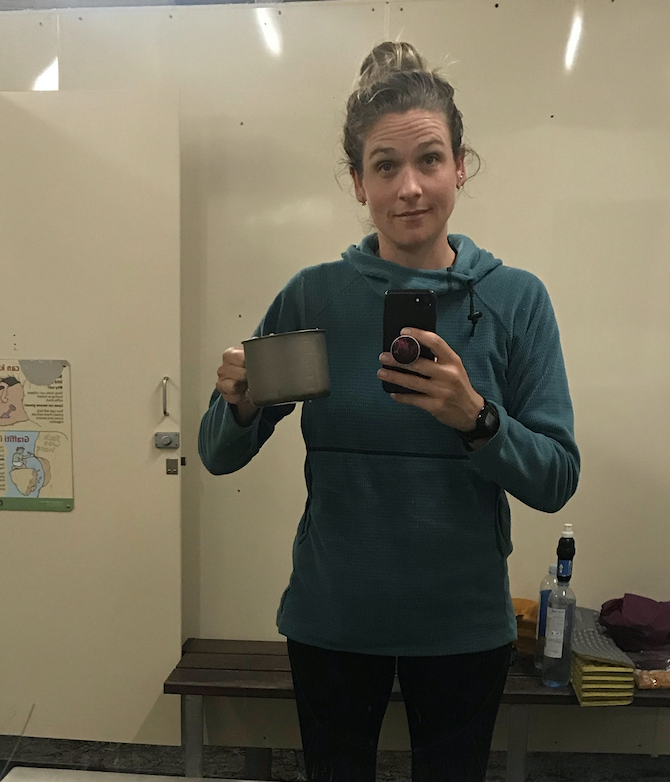 Reflections
As I sat there I reflected on the girl I was seven years ago, setting out on her first multi-day hike, and how much I'd grown since then. Maybe seven years ago I would have gone home on that second morning. Maybe I wouldn't have had to courage to ask a stranger for a lighter or if I could tag along on a 4WD joyride down the beach. But I've worked hard on my growth as a strong, independent hiker and am proud of myself for how far I've come. I'm proud for waking up and deciding to go on a solo 102km hike and not needing anyone but myself to go do what I love. Now don't get me wrong, multi-day hiking is not for everyone and I appreciate that. But what I do encourage is finding something you love doing; something that makes you feel alive. That when you are doing it, you feel as though you are living a passionate life. Something that you can grow in and achieve goals in. If you told me seven years ago that I would have hiked across America twice or the length of New Zealand's south island, I'm not sure I would have believed you. But I fell in love with hiking, so over 12,000 kilometres later, there I was sitting in a public bathroom, eating my dinner and feeling really proud of myself.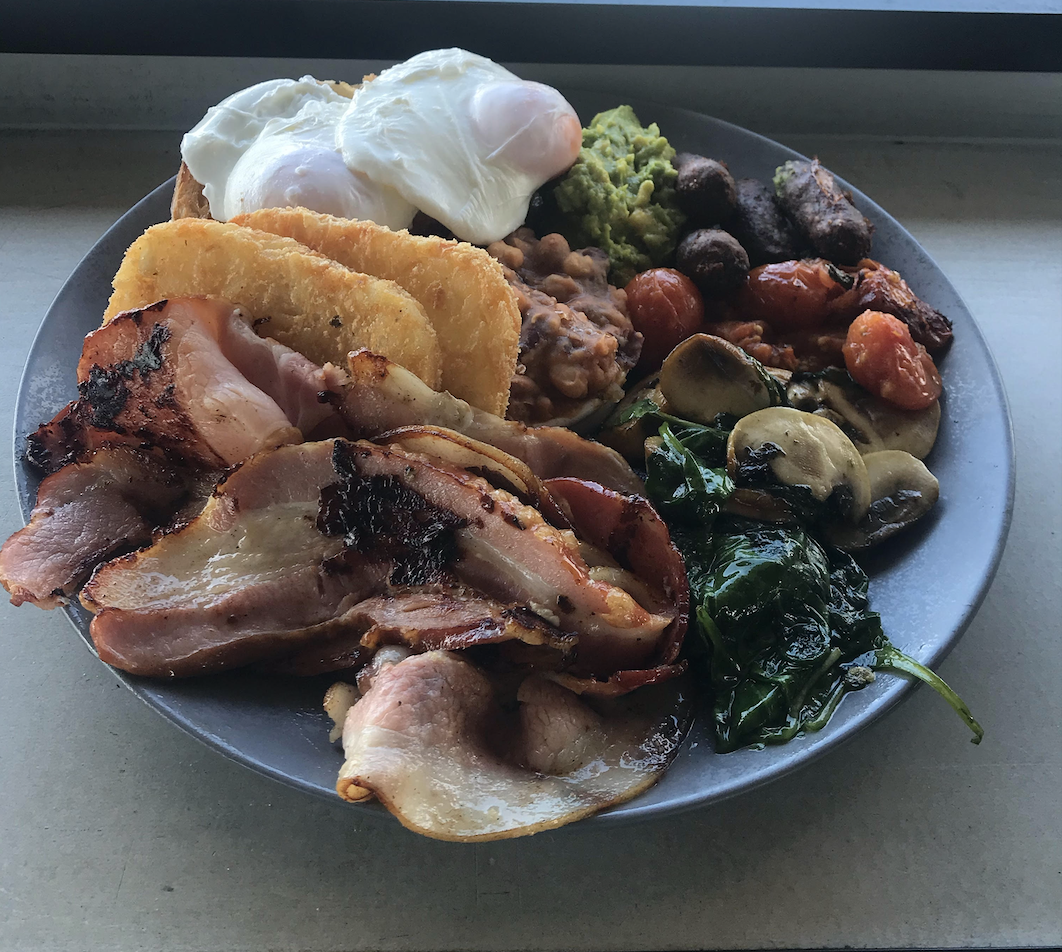 Town Day
It's town day! Walking into Rainbow Beach was like walking into… well a town after five days in the bush. I Googled Best Brekkie in Rainbow Beach and headed straight for The Deck. I ordered one of those breakfasts that has everything: avocado, mushrooms, eggs, three types of meats - it was falling off the plate. The lady gave me a funny look, like are you sure you can eat all this? I could. I had two hours until my bus, so I sat there and indulged in every mouthful. It was heaven.
My Top 5 Tips
Take bug spray!
Allow time to enjoy Brahminy campground and Lake Poona.
Stop and talk to people...you never know what adventures it will lead to.
I now carry a flint in my pot, so next time I forget my lighter I will have a back up. You can get one here.
Greyhound runs a bus from Rainbow Beach back to Tewantin.