What I wore for my 100k ultramarathon (and how I chose it)
Author: Stephanie Ford Date Posted: 6 December 2019
Read how Stephanie Ford chose her kit for her first attempt at a 100km distance. These tips and tricks are equally relevant for shorter races and longer training runs.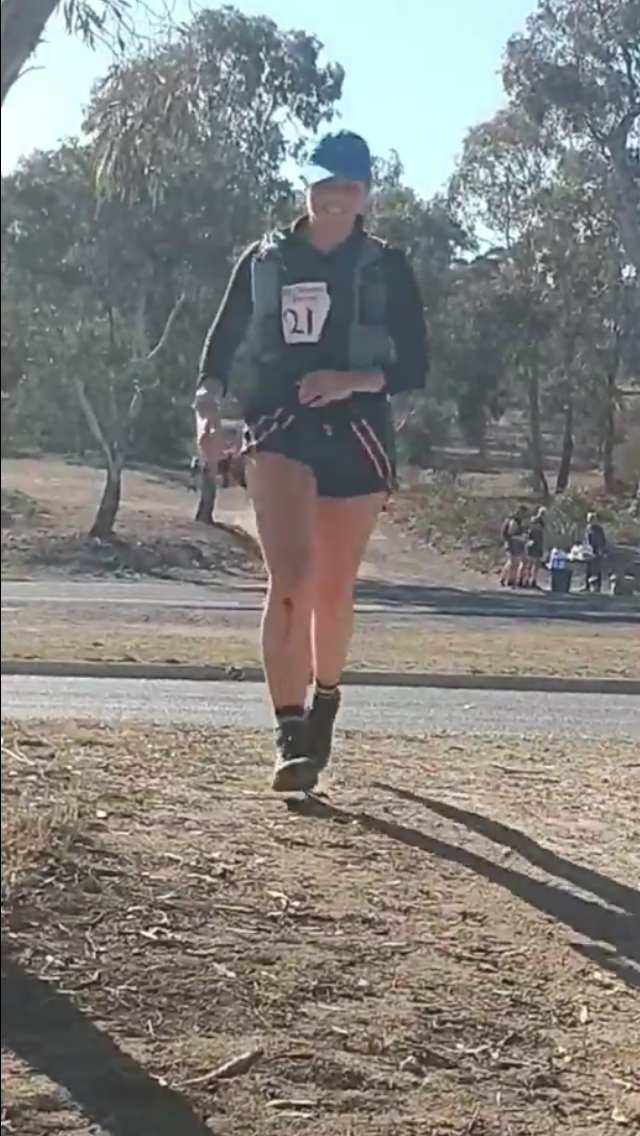 After running a brutal 50km race at Canada's Big White mountain, I set my mind to putting in a decent 6-week training block and seeing what would happen in a 100km event. After a short period of questioning my own sanity, I chose the Canberra Trail 100.
I knew I'd have to have a dream run on race day to get it done. Gear plays a large role in overall comfort and performance so my stuff needed to be perfect.
This post will outline how I chose my kit for my first attempt at the 100k distance. The tips and tricks are equally relevant for shorter races and longer training runs too.
So if you're nervous about an upcoming event, just getting started with distance running, or you want to know if you're on the right (gear) path - read on.
All the kit you need. Bloody knees are optional, but encouraged.

Choosing your running shoes for race day
Your shoes won't just make or break your race, they also play a starring role in how you'll feel in the days following. No pressure!
Choosing the right shoes is quite simple, just take these four things into account:
Terrain: the more rugged the terrain, the more you'll benefit from investing in trail shoes with lugs.
Distance: the further you go, the more likely you'll want some cushion under your tired body.
Weight: the longer you're hauling your body around, the lighter you'll want your shoes to be - to a point. Some ultralight running shoes are created with specific builds in mind. If you don't fit that mold, don't get them.
Weather: if you're likely to encounter mud, you'll want a trail shoe with an aggressive outer. And rain doesn't mean Goretex! It means choosing shoes that drain well.
If you're ever in doubt, dress your feet for the worst case scenario.
My choice: Altra Lone Peak 4.0s
I was expecting dry bushland with plenty of rocky trails. These trail shoes have more cushion than what I usually run in and I was grateful for it! The rocky terrain meant that I needed some protection for the soles of my feet and my toes - nobody wants a stubbed toe mid-race.
You can read my detailed review of the Altra Lone Peak 4.0s for more information.

Socks for long distance running
I have two different types of socks for running: wool and compression. (And one pair of wool compression socks, though they're mostly whipped out for long days of exploring in the snow).
90% of the time, I wear wool socks with moderate cushion. They keep my feet warm, dry and generally happy. On long runs and on race day, I usually switch to CEP socks that provide a little more compression and support. This switch helps me feel a little less beat up in the days following long run day. A change is as good as a holiday!
All in all, people have strong opinions about socks. Many who suffer from blisters are vocal supporters of Injinji's toe socks. Others have assured me that waterproof socks will change my life. Find what works for you and stick with it.
Whatever you do, don't change your socks for race day!

Running Bottoms
Weather and storage are the two factors that are likely to play a determining role in the bottoms you choose. I did most of my winter mileage in Aussie Grit's 3/4 leggings. You can see my detailed review of the tights here (Spoiler: they're great!).
I was sure I'd be suiting up in them come race day, but the forecast called for a really warm afternoon. In the end, I settled on Kari Traa shorts that I'd bought in a pinch earlier in the year.
As a runner with thighs, I do think quite seriously about chafing (or the prevention thereof) when choosing bottoms. There's nothing better than Body Glide for preventing thigh chafing. But choosing loose shorts with built in underwear is a close second.
But, being a synthetic material, the Kari Traa shorts do start to stink long before my (gone but not forgotten) Icebreaker merino shorts ever would have. Stink is the final factor that plays into my decision making - especially since I spend quite a bit of time in the bottoms.

The Best Underwear for Long Distance Running
So, I believe it's now apparent that I didn't wear underwear on race day. Nonetheless, I'm going to do you a favour - let me introduce you to Exofficio and their Give-N-Go Sports Mesh undies.
I'd genuinely resolved myself to the fact that I was forever going to wear underpants that were almost comfortable on long runs in tights or leggings. Those days are gone. These undies are the best!
I will warn you, they aren't beautiful. They're described as hipster fit but they are quite full in their coverage. Looks aside, they don't ride up and they keep me dry in the snow, the heat and during particularly sweaty sessions. I can't ask for more than that.

My Top Tips
Choosing a top for long distance running is a little more complicated than just weather and chafing. Though you definitely need to think about both of those things.
Rain and Wind Protection
Most runners I know really did their research when it came to their protective layer, and I strongly recommend you do yours. My go to is a Patagonia Houdini that folds into its own breast pocket, weighs next to nothing and has never let me down in poor weather.
As the weight and size go down, the price goes up. You'll need to work out where your sweet spot is in terms of weather resistance vs price vs weight.
If you're on the hunt, I'd recommend checking out Salomon, Ultimate Direction and Aussie Grit as a starting point.
The Best T-Shirts for Running
I started my race in the Icebreaker 200 Half-Zip that I previously reviewed. For the first 50km, it was everything I could have asked. It was cold in the morning, so the thumb holes felt like a warm hug for my wrists. Once it warmed up, it was easy to dump heat using the zip. For long days when you don't want to lug much around, I'd recommend this top every time.
At the halfway point, I fished out an older Icebreaker singlet that I'd been carrying. I changed mostly because I was having a tougher time than I should've been at that point and switching things up is a good way to reset.
I pretty much always use merino wool for my longer running days. Given its ability to regulate temperature, wool offers the most protection from the widest range of weather conditions. I like to be prepared!
For races that are marathon distance or less, I do sometimes opt for synthetic performance fabrics that offer a bit more in terms of cooling. Check out my article about performance fabrics for pros and cons of different materials.
Me, my Icebreaker shirt, and my sweaty sweaty hat at the Black Mountain summit aid station.

Accessories
No outfit is complete without the accessories, right? Here's a quick overview of what else I carted around:
Aquapac Trailproof Waterproof Phone Case - your phone is no good to anyone if it gets wet!
Ultimate Direction Adventure 4.0 pack (I dropped in some tips for choosing your own backpack in my review).
Nutrition and Hydration (watch this space, I've got a post coming soon!)
Salomon Running Hat (do yourself a favour and buy your hat in a cooling performance fabric with vents!)
Body Glide - anti-chafe balm
Sunglasses - I'm still trying to wear out my old pair, but I'll be investing a Goodr pair in the future!
Curious about how the race panned out? It's a bit of an anticlimax - I DNF'd, dropping out after 9 and a bit hours with about 30km to go. All the gear in the world couldn't have prepared me for the heat and an emotionally draining week. At 22 degrees, it was 10-15 degrees higher than what I'd done the bulk of my training in and a solid 30 degrees warmer than my favourite running temperature.
At least I've got all the kit I need for my next attempt!