GEAR CHECKLIST: Larapinta Trail
Author: Danae Baggs Date Posted: 11 June 2021
The Larapinta is a magnificent multi-day trek in central Australia.
Larapinta Trail
223km
Northern Territory | Australia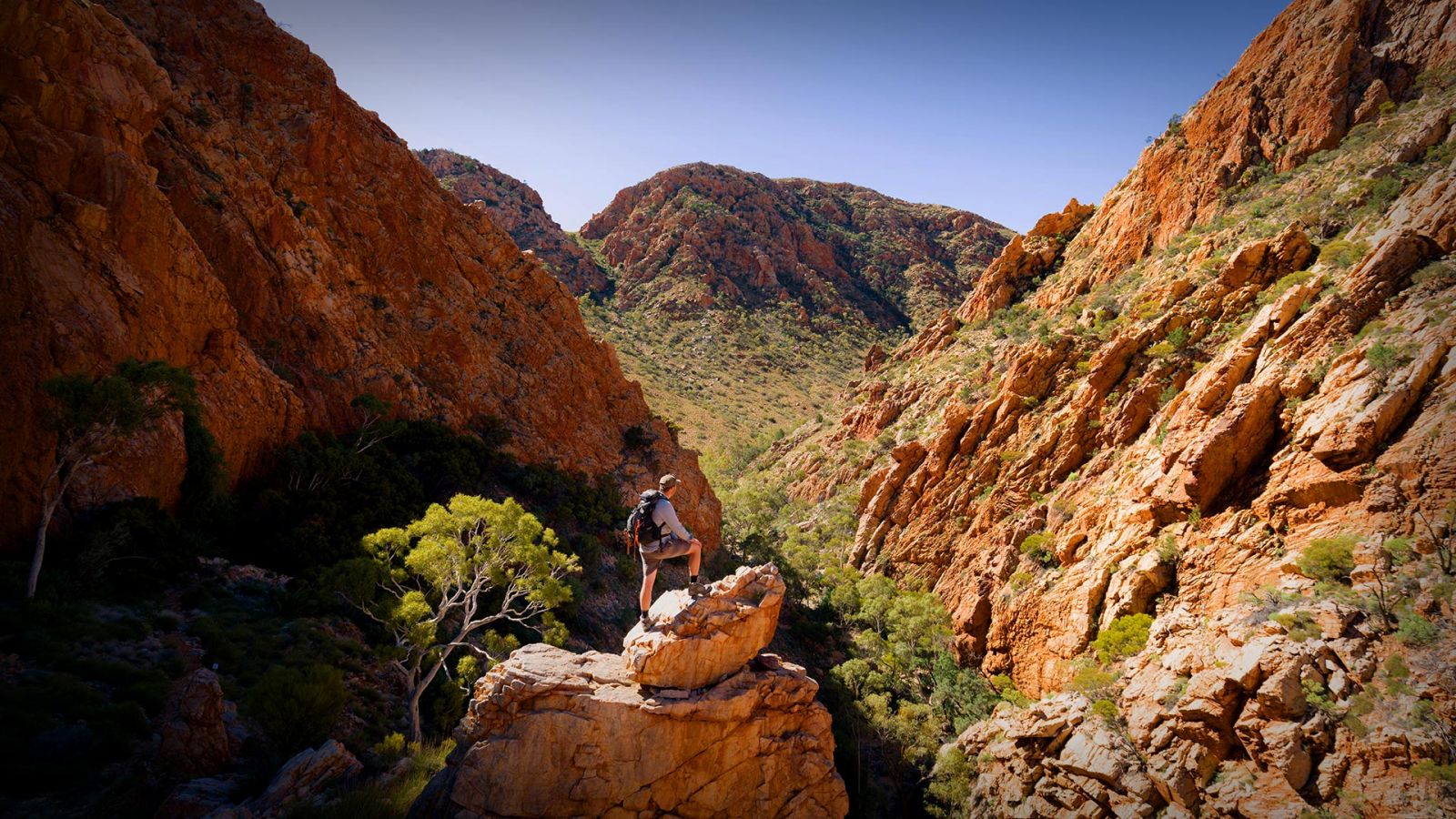 Image via Trek Larapinta Walking Trails
One of Australia's newest trails, the Larapinta has 12 sections across a massive 223km, which takes around 12-14 days to walk. You'll start near the famous Alice Springs and walk the desert ridgelines of the West MacDonnell Ranges, with views of ancient and rugged landscapes in Australia's Red Centre.
Central Australia is an arid region with extreme climates ranging between intense heat and freezing cold. Rain does fall throughout the year, sometimes in downpours. Check the weather forecasts, plan your trek according to the season, and follow this packing guide!
Storage
Large hiking pack - we recommend a 75 -85L pack to cope with the massive trail length
Pack liner - dry bags, brand-specific pack liners or even a large garbage bag prevents water from soaking through onto your equipment in the case of heavy rain
Rubbish bag - leave no waste behind on the track. Do not burn or bury your rubbish. There are 4 rubbish points along the trail where you can dispose of your carried rubbish.
Shelter
OPTIONAL
Bag liner (optional) - an lightweight silk sheet adds warmth and helps keep your bag clean
Pillow (optional) - choose something small and inflatable
Clothing
Sturdy hiking boots - make sure your boots have strong soles and that you wear them in before you leave
Hiking socks - choose socks primed to minimise blisters and regulate your temperature
Underwear - ideally sweat-wicking or quick-drying
Pants or shorts - choose lightweight, breathable materials
Shirts or t-shirts - looser, long-sleeved shirts provide better sun protection
Sun-safe equipment - like a sun hat (wide brim is best), sunglasses (ideally with polarised UV lenses) and sunscreen
Thermal base layers - long sleeve top and long pants for colder nights or winter treks
Warm jacket - lightweight fleece, microfleece or merino wool are all good options, but not cotton
Rain jacket - it does rain on the Larapinta, so bring a waterproof, seam-sealed and breathable raincoat
Beanie - you'll definitely need a lightweight, warm beanie in winter
Gloves - woollen or thermal gloves or mittens for cold temperatures
Warm pants - joggers or trackies for nighttime
OPTIONAL
Gaiters (optional) - prevent grit, dirt and debris from getting in your shoes, and can help protect against snake bites
Fly net - flies can get very bad on the Larapinta Trail; a fly net over your head protects the moist facial areas that flies target, like the corner of your eyes, inside nostrils and around the mouth
Shemagh / keffiyeh - wrap-around face/head covering that protects your ears, mouth, nose and neck from sun, wind and dust/sand in arid conditions; you could also use a buff/neck gaiter
Camp shoes - lightweight sandals are great for letting your feet relax and breathe at the end of the day
Food & Water
Water - see the official Larapinta website for details on water access
Hydration bladder - capable of carrying 2-3 litres per day
Water bottles - capable of carrying an extra 2-3 litres per day
Water treatment - a filter, purification tablets or a sterilisation device
Food - lightweight and energy-dense; remove excess packaging to save waste and weight
Cooking stove - no open fires are permitted on the Larapinta Trail
Fuel - fuel can't go on planes and must be bought locally
Utensils - bring lightweight camping utensils rather than heavy metal
OPTIONAL
Cooking pot/pan - lightweight and with foldable handle
Mug - lightweight and collapsible
Bowl - lightweight and collapsible
Scourer - if cooking with a pot/pan and using plates/bowls
FOOD RESUPPLY
You won't be able to carry all of your food for the entire Larapinta Trail. To restock your food, you will need to organise food drops or food storage.
Pack your food and other essential items you'll need to resupply (e.g. fuel) into sturdy containers - plastic is best. Bunnings in Alice Springs stocks great plastic containers. Seal the containers with tape or zip ties to keep theft (animal or human) at bay. Mark your containers clearly and distinctively.
Food storage (official) - There are 2 official food storage points along the trail: in Ellery Creek and in Ormiston Gorge. You will need to carry a key to access these locked storage sheds, which can be obtained from the Tourism Central Australia Visitor Centre in Alice Springs. Always lock the door behind you. You can donate food/items by leaving them in leftover containers marked with Larapinta Trail and NT Parks stickers - alternatively, you can take leftovers from these containers for free.
Food storage (private) - Standley Chasm and Glen Helen Lodge (update: Glen Helen is NOW CLOSED) also offer food storage or food drops. You will need to contact them direct to obtain permission to store food here.
Food drops - several local operators can drop resupplies via vehicle or helicopter to the official food storage points, at trailheads, or even to your campsites.
Safety
OPTIONAL
Satellite messenger - for contacting friends, family and rescue services out of mobile range
Multitool or pocket knife - handy in a variety of situations
Mobile phone & charger - please note that more than 95% of the Larapinta Trail has NO MOBILE COVERAGE whatsoever.
Toiletries
Toilet paper
Antibacterial gel
Insect repellent
N.B. Along with this list, carry some cash on you. At least three campsites require a nomial fee to stay overnight, ranging between $3.30 - 10.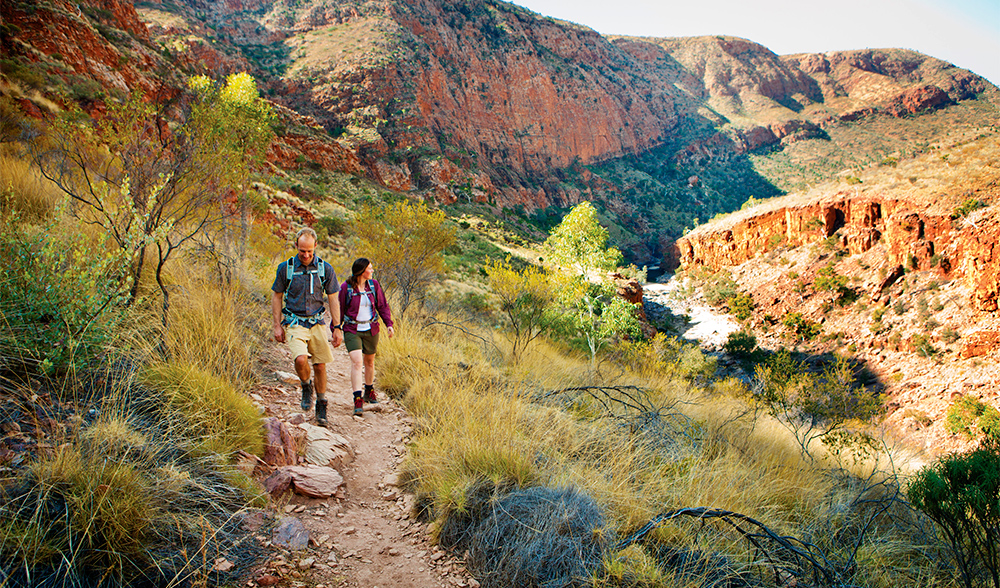 Image via Australian National Geographic