PRODUCT REVIEW: Polar Vantage V & M Multisport Watches
Author: Danae Baggs, Eli Crocombe & Shaun Pleschka Date Posted: 15 December 2018
Three Wildfire staff members were lucky enough to receive sports watches from the brand-new Polar Vantage series. Released November 2018, the Vantage M and its elite older brother the Vantage V have proved to be showstoppers.

With top-of-the-line heart rate technology, over 130 sports profiles and a slim, lightweight design, the Vantage series is set to make waves over Christmas and the New Year. Let's hear what our staff members had to say about their Vantages.
Eli – Vantage M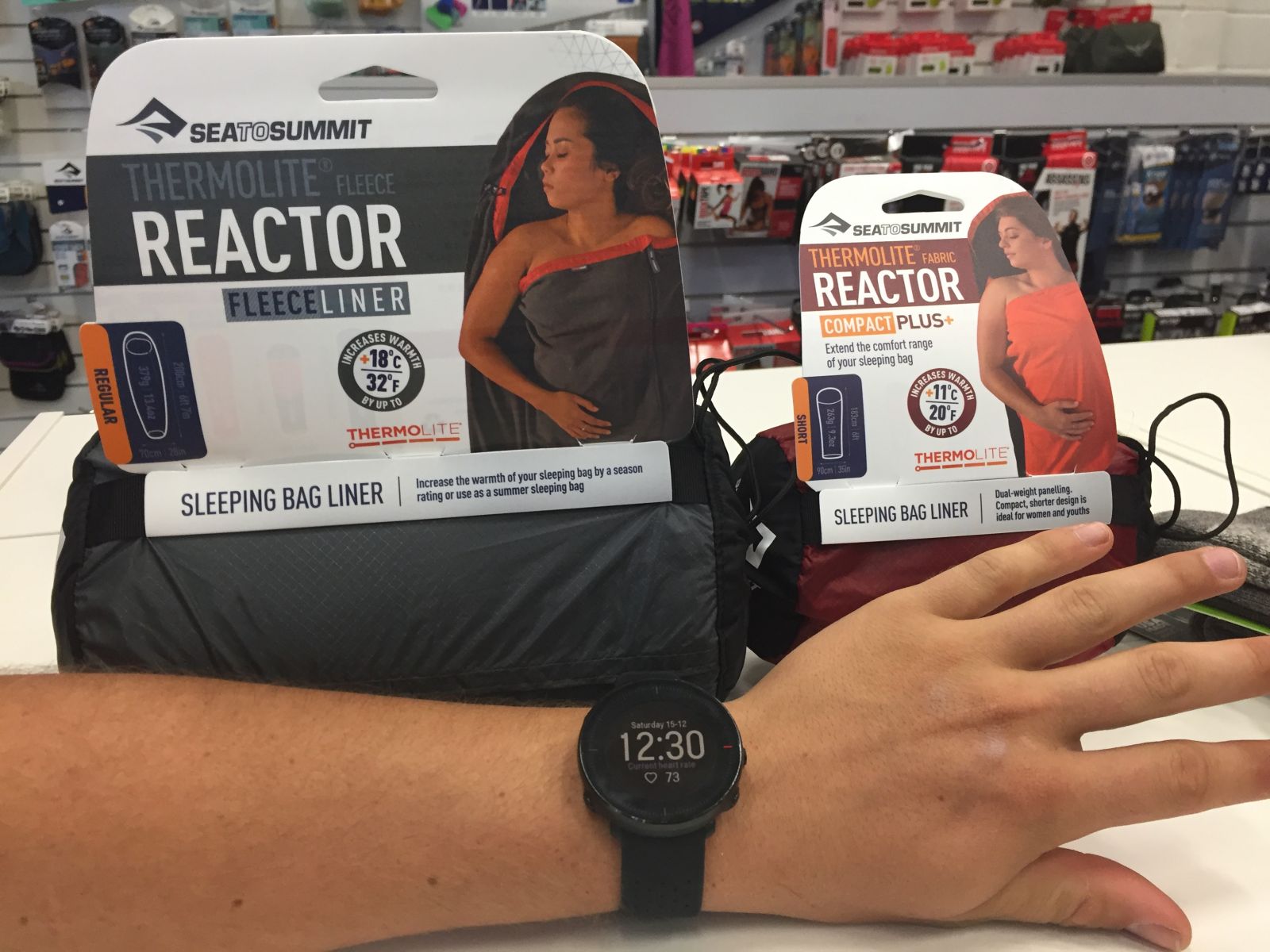 Overall, I really enjoy using this watch. It's been a huge upgrade from my previous watch, the Garmin Forerunner 25.
The Good
I like the appearance of the watch. It has a minimalist and stylish look while maintaining its durability. I have knocked the screen several times, sometimes on rough surfaces, and the glass face itself looks like new.
Having a wrist heart rate is very convenient and allows for easy heart rate monitoring. I have really enjoyed having a constant, easy to see heart rate display when running. Knowing what heart rate zone I'm in is very motivating while exercising. Also, if 24-hour heart rate monitoring is activated, it is used to calculate your activity tracking more accurately.
The sleep monitoring function is interesting. It's handy to have data on the actual quality of sleep that I am achieving and track it over a period of time.
The Polar Flow online interface is great. Very similar to the Garmin Connect interface. It displays all the data you could think of relating to your fitness, complete with graphs and intuitive navigation. There's access to settings that customise your watch, such as a heap of sport profiles (you can save up to 20 to the watch). There is also a function to sync your Polar Flow information with STRAVA.
The general user interface of the watch is easy to use and has well placed mechanical buttons that I find encourage ease of use even while exercising. The actual display can be customised to show you exactly what you want to see and can be customised for different activities.
The Not-So-Good
On occasion (twice since I've been using the watch), when synching to a desktop, my Vantage boosts my activity level and conquers up to 60% of my activity for the day… just by connecting it to the computer?
When updating, Polar Flow sometimes factory resets your watch and you have to log back into your Polar account and sync again (this happened once after the battery died and it updated when plugged in to charge).
The GPS in this watch seems to be consistent, but it jumps around a little when travelling under bridges and other signal-blocking areas. It consistently maps a 10km run 500m further than my Garmin Forerunner 25.
Hopefully these are just bugs that Polar will work out in upcoming updates.
Shaun – Vantage V
Polar has designed a top-of-the-line multisport watch. With watches everything comes at a cost, and it's not just the initial price. So rather than list the pros and cons separately I'll explain why they are there and what I think of them.
Extremely good battery life. Battery life is almost always tied to the size of the watch. The Vantage V manages to be quite a slim, nice-looking watch that can pass for a dress watch. The way Polar achieved great battery life on such a slim watch was by trimming other features, such as the display having a lower resolution compared to competitors and the screen not being as bright. A few times while using the watch I had to shield the face from glare to read my heart rate. Honestly, I think Polar has made the right choice here as battery life is much more important than a shiny screen.
As a fitness tracker the watch is only average. It does the basics like all the others, but the details just aren't there. Your steps are counted but stairs aren't separated, and it's unclear how the daily goal feature uses its combinations of steps and HR. If this were marketed as a fitness tracker, I'd be disappointed, but since it isn't, I guess it's okay. My main gripe with this is simply that the watch is great for multisport AND looks good enough to wear to work, so it'd be great if we could track out smaller scale exercise as well.
As a multisport watch, Vantage's functions are great. Simple and easy to use. Comes with an altimeter/barometer and the best wrist heart rate on the market. Not that it matters, but the wrist HR still has the same failings as all wrist heart rates, so if you care, wear a belt like the rest of us. Preloaded sport modes are all what you'd expect them to be.
The most unique thing from Polar is the training load data. It takes quite a while to get the benefit out of this, but that's simply because your watch requires at least a month of data before it gets to know you and what you are capable of. Once it does, though, I've found the estimated recovery times to be quite accurate and helpful and the watch display really helps me keep up with how I'm traveling this week compared to what I should expect. Very nice to have when you work full time.
The touchscreen is almost pointless. It does nothing faster or easier that the buttons can't handle and is easily confused by sweaty hands. It's also disabled DURING runs, so I don't really see the point.
Some social features that are going to be added later are missing. Bluetooth notifications from your phone aren't here yet, but that is supposed to change in an update soon. Not a big loss, but again -- if it looks nice enough to wear to work, give me a reason to do it.
A lot of other watches are much more customisable. There are very few options for changing colour or the way time is displayed. This lack of settings probably helps make the watch easier to use though, so it's not all bad.
Overall, this is an amazing watch if you are a triathlete. If you wanted anything else from your watch, I'd probably look elsewhere.
Danae – Vantage M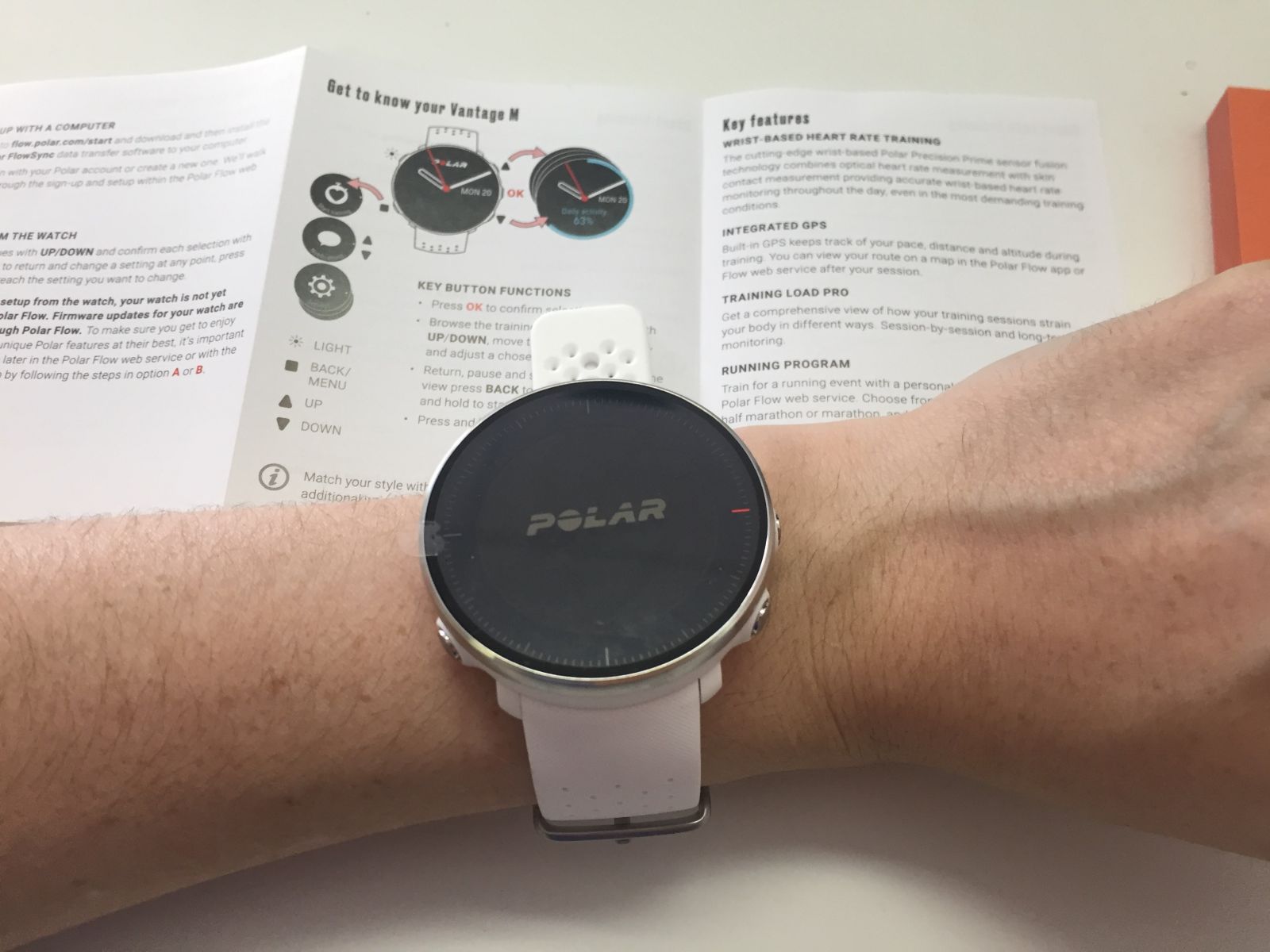 The Polar Vantage M is my first sports watch. Thankfully, it's both highly intuitive and easy to link with Polar Flow, where you can examine your personal data. I'd definitely recommend the Vantage M as a first or second sports watch, not only for its simple navigation and versatile look, but also because it packs in a lot of tracking data and sports profiles for a reasonable price point.
I have a tiny wrist, so the watch face seems a little large on me. The band cinches down plenty tight enough though, which is rare for me to find on most watches. I like the sleek, powerful and athletic aesthetics of the Vantage M, and the white colour especially lends itself well to work and other non-sporting events.
The Vantage's battery life has been incredible. I leave heart rate on 24/7 and use GPS tracking on all my runs, hikes, etc. and it easily lasts several days without dying. It also has a crazy fast charge time. I keep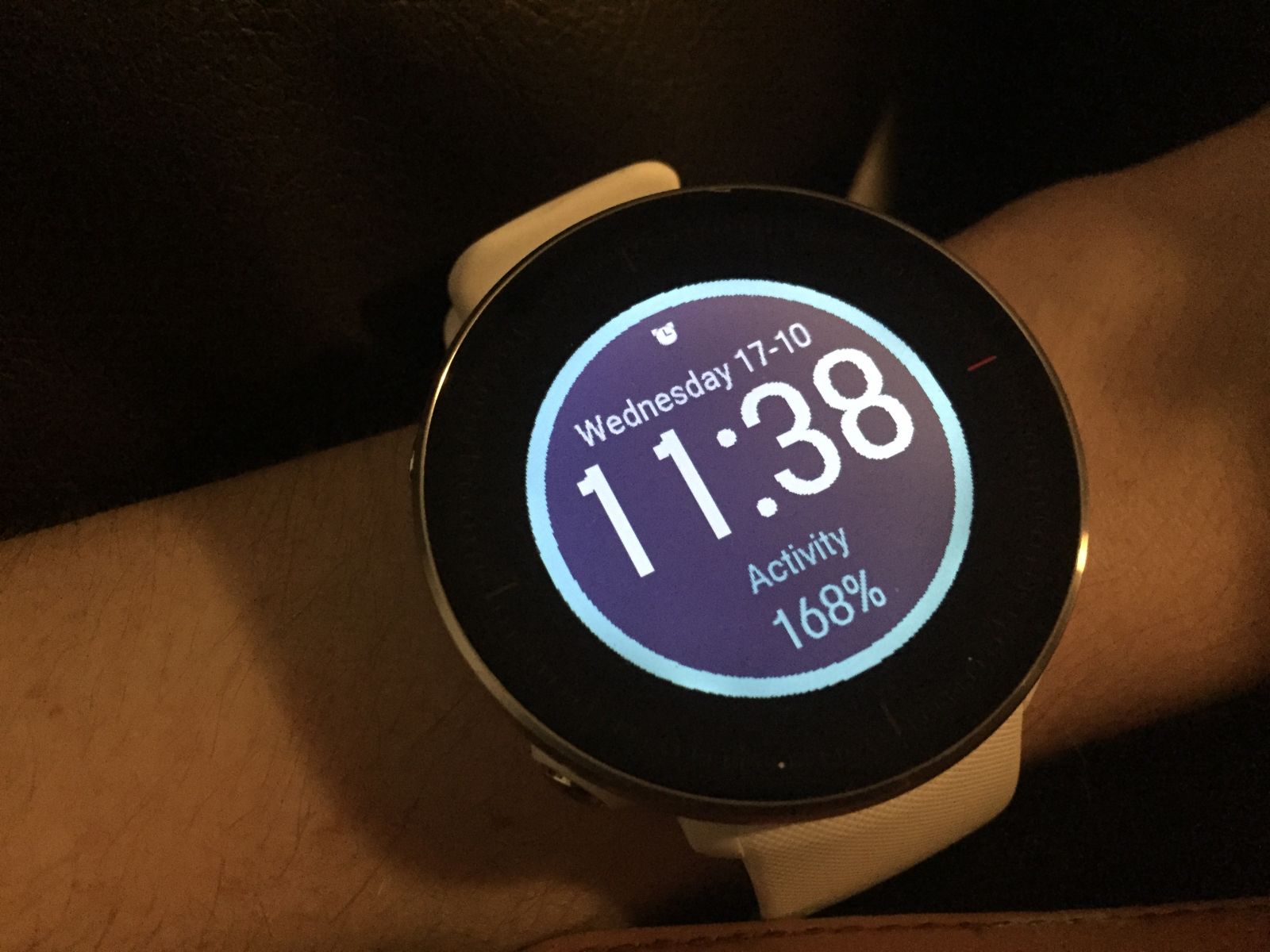 my charging cable on my work desk and give it an hour once or twice a week at the start of my day. Easy!
I love the sheer amount of sports profiles available, especially that it has some not-so-obvious ones on there. You can keep up to 20 on your Vantage. On mine I have rock climbing, dancing, hiking, kayaking and running. Seeing your heart rate and HR zones is super motivating when exercising (if a little disconcerting when you're about to make a risky move and you see your heart rate jump).
My personal favourite feature is a tie between the daily activity goal and the training load summary, although the detailed sleep tracking is a close runner-up. Shaun and I always check each other's percentage throughout the work day and we have both been known to run up and down the stairs to try and edge ahead… A little healthy competition is good, right? Personally, since I received my Vantage I've always tried hard to get to at least 100% of my daily activity goal.
The training load summary is also hugely motivational for me, as I personally hate seeing it tell me I'm being anything other than productive. Seeing it tell you you're detraining makes you schedule in some training sessions; seeing it say maintaining can inspire you to put in a little more effort. And the overtraining warning is just as helpful: after all, training too much or too hard can be detrimental to your health and increases risk of injury. It's a great reminder to take a day off when you need it.
As Shaun has mentioned, I'd like to see a more detailed breakdown of my normal activity tracking. Smart notifications will be a welcome arrival, as I feel they're becoming the norm for a watch at this price point. I have also managed to scratch the glass on the watch face within a month, which I was a little disappointed by – but to be fair, I rock climb with it on and it was probably accidentally pounded against a hold during a dyno.
I don't personally see the Polar Vantage M as a pro watch, but rather as a great introduction to sports watches or a nice upgrade on older models. If you're into a variety of different sports and want something aesthetically pleasing that will give you insight into your training, then the Vantage is an awesome option and one that I'm happy to recommend.