Overseas Packing Tips
Author: Laura Taylor Date Posted: 31 January 2019
Outdoor Education student and staff member Laura explains how to pack for long overseas trips, based off her trip to Norway for a study semester.
If you wondered where your favourite shop assistant went for 6 months, wonder no longer. I headed over the waves to Norway to study for a semester. As I studied an Outdoor Education course while there, and camped and hiked quite frequently, I took a fair bit of gear over with me to tackle the Nordic climate.
This guide is simply what has worked for me over the years and what was suitable for the climate I was in. When I buy gear, I want a few things to be certain: it's suitable for what I'm doing, durable, and light. Each of the products shown in the photos ticks those boxes for me.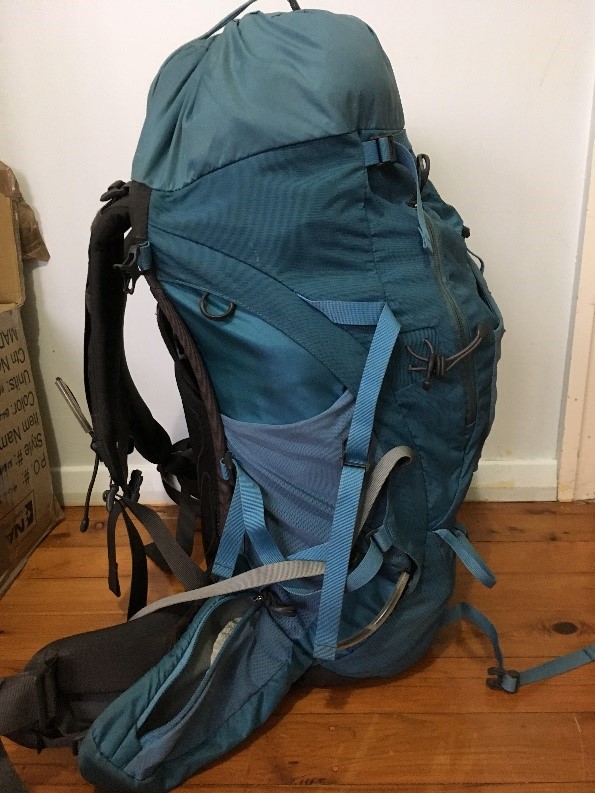 Pack
The main pack I'm taking with me is the Osprey Xena 70L, which I chose for a very simple reason: it's the biggest women's hiking pack we stock in terms of capacity. I've used this pack on several occasions, from rock climbing trips to multi day hikes to general travel, and it hasn't ever let me down.
Pictured here is my Osprey Xena 70L fully packed with 6 months' worth of clothing and gear. All up this pack weighs around 12kgs. Not too bad for half a year of travel!
Unpacked
On the right is the camping gear I took with me. Before you head off, be sure to check expected weather conditions and temperatures so that you can get the gear to suit. As I was living in Norway, I packed clothing that could be easily layered to keep warm (layering is the key for warmth in colder climates!) along with camping gear suitable for that climate.
I bought myself a Nemo Galaxi 2P tent, Sea To Summit Women's Trek II down sleeping bag, Nemo 20R Insulated sleeping mat, as well as a sleeping bag liner for added warmth. If you're travelling to colder climates, buy an insulated mat! No matter how warm your sleeping bag is it will not perform if you don't have insulation keeping the cold ground off your body.
I prefer down to synthetic filled sleeping bags because anything made with down, from sleeping bags to jackets, is going to be warmer for its weight. Down will also pack down significantly smaller than synthetic materials. For example, I have an 800 Fill Down Jacket that will pack down to the size of my hand, and my sleeping bag will pack down to double that. That's pretty good if you're wanting to be conscious of pack size.
If you're vegetarian or vegan, the Sea To Summit down sleeping bags come with a 'Responsible Down Standard' (RDS) tag, which means that the down has been sourced with more humane handling practices.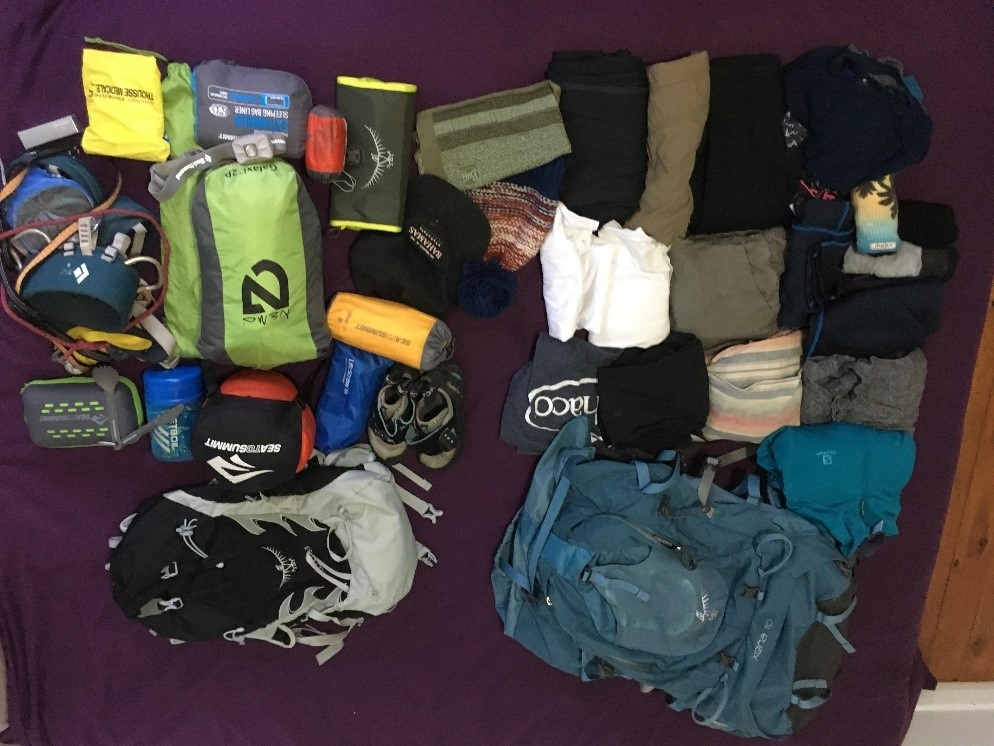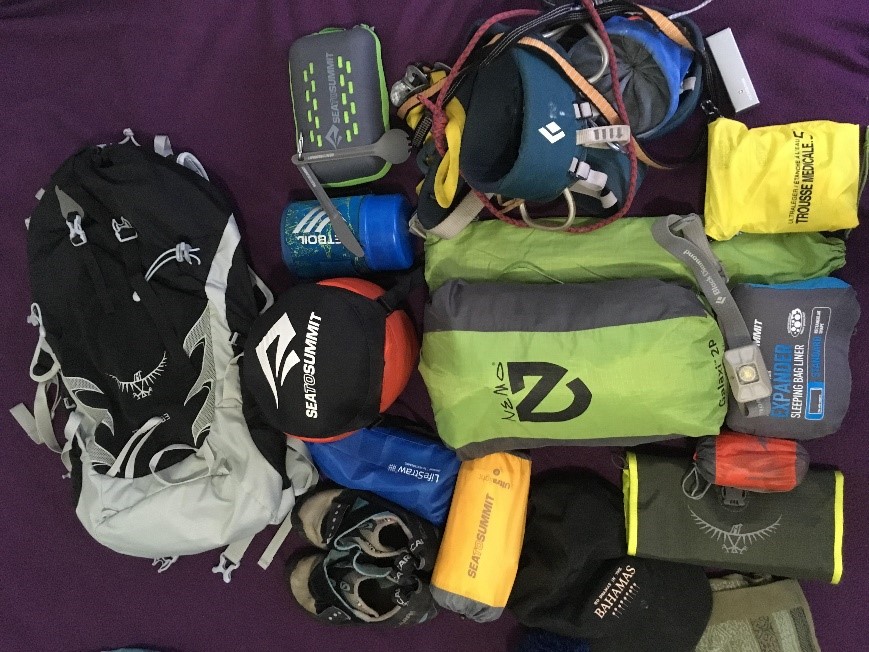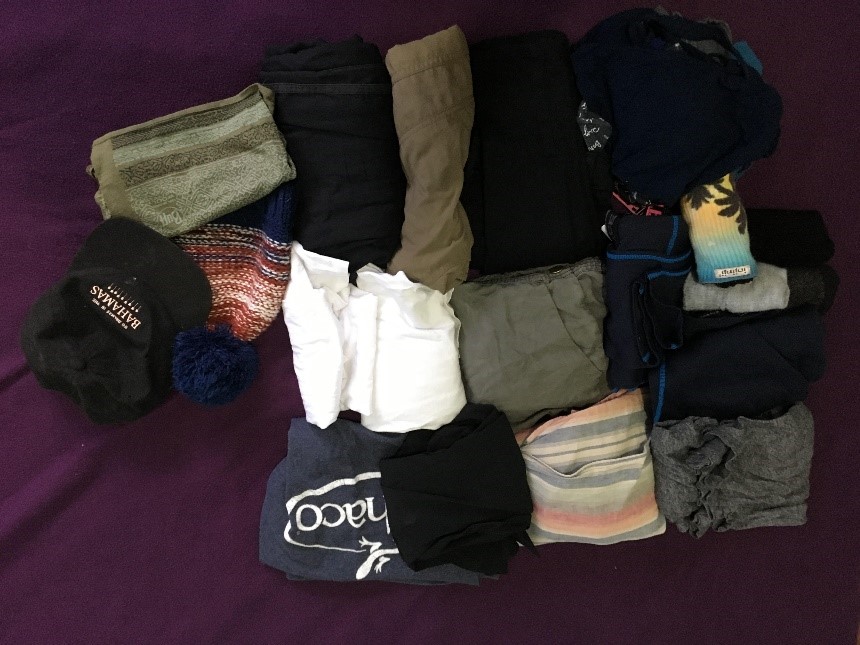 Clothing
This is all the clothing I brought for 6 months. You don't need to pack that many clothes!
Only take your favourites, as I can guarantee you won't wear anything else…. Tried and tested!
Packing for Multiday Hikes
Go lightest on the bottom, which is generally going to be your sleeping bag, mat, and clothing. Next you want the heavier items as they'll be against your back and the weight will be displaced onto your hips, where most of the support is. Anything you might need quick access to, like a jumper, raincoat or first aid kit, should go either in the pocket/s at the front, or at the top of your bag.
Packing for General Travel
For general travel, you can use a pretty similar method to what is mentioned above, with your essentials being easy to grab, but more chaos throughout the rest of the bag. As long as it all fits in the one pack, I'm pretty happy.
Final Tip
This is a general guide for those jet setting off for the first time who aren't too sure of how much to pack. My answer is to only pack the bare minimum. You'll be surprised by how little you actually need!