Wahoo TICKR Heart Rate Monitor Range
The Wahoo TICKR range of heart rate monitors track your exercise in real time, displaying your heart rate and calories burnt on your connected smartphone or GPS watch.
Through their dual ANT+ and Bluetooth 4.0 compatibility, the TICKR range connects with a wide range of devices including those with Apple, Android, Garmin and Timex operating systems. These heart rate monitors are designed with two LED lights to display when your TICKR is connected to your phone or watch and also to let you know when the monitor detects a heart rate, making sure that you always know when your heart rate is being recorded. All TICKR heart rate monitors are compatible with over 50 third-party apps including Strava, Runkeeper and MapMyFitness, in addition to the iOS Wahoo Fitness App which offers a free, eight-week Burn & Burst Heart Rate Training Plan designed to improve your performance. TICKR heart rate monitors are waterproof to 1.5m and have up to a year's power from a single, replaceable battery.
For the all-round experience, the TICKR X includes all the features of the original TICKR as well as additional exclusive features. The TICKR X has an inbuilt memory large enough to hold up to 16 hours of performance metrics without a connection to a watch or smartphone. The TICKR X measures a variety of motions including repetitions, laps and pedalling cadence, and also allows you to mark specific times during your workout by double-tapping the unit for easy reviewing later.
Prefer a monitor worn on the forearm? The TICKR Fit has you covered. With a 30-hour rechargeable battery and the same features as the TICKR - waterproofing to 1.5m, free eight week training plan, and third party app compatilbility to list a few - the TICKR Fit comes with a small and a large arm strap for you to find your optimal fit.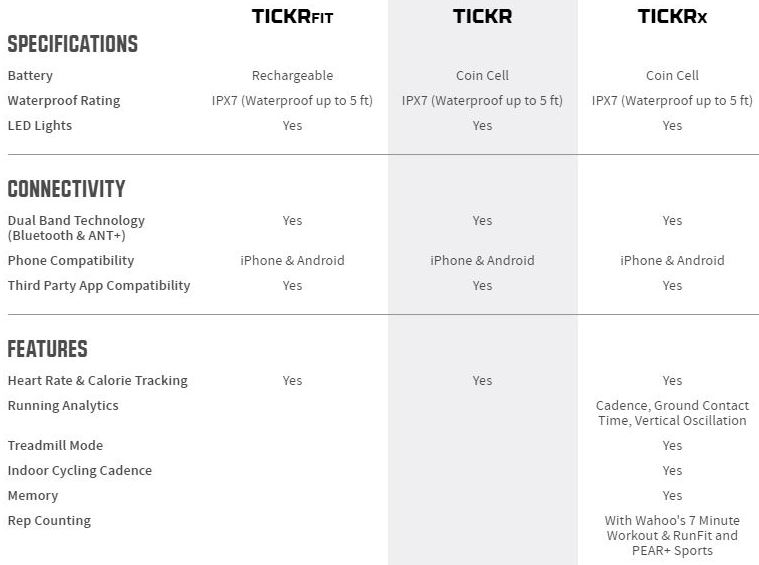 For more information on Wahoo Fitness products, please click on the following link: Wildfire Sports & Trek - Wahoo Fitness