Showcase: On Running
Author: Danae Baggs Date Posted: 26 July 2019
On Running shoes have been a massive hit with the Wildfire team. Here are our thoughts on these innovative Swiss runners and why we're all wearing them.
With the new Cloudrock hiker and Cloudstratus max-cushioned road runner hitting our shelves recently, we've been reflecting on how big a hit On Running shoes have been with the Wildfire team. Here are our thoughts on these innovative Swiss runners...
Jane
Model: On Cloudflow
My On Running Shoes are great to run in. I'm able to generate speed with these shoes easier than my previous running shoes due to the "cloud" soles and how lightweight they are. I frequently run on hard concrete and road surfaces and though the On Running shoes may not look like your typical highly cushioned running shoes, the shoes do absorb a lot of impact (my knees and shins are most grateful!). The heel drop is less than most running shoes but more than zero-drop/minimalist running shoes. The cloud soles reduce ground contact time, but I'm able to generate good power and drive off the ground and lengthen my strides…I feel nicely springy when I run in these shoes. It also doesn't hurt that they're really nice to look at! Overall, the On Running shoes are quite different in design and appearance in relation to other shoes, and I'd say Goldilocks would say the shoes are "just right" in terms of balancing cushioning, speed and weight.
Dana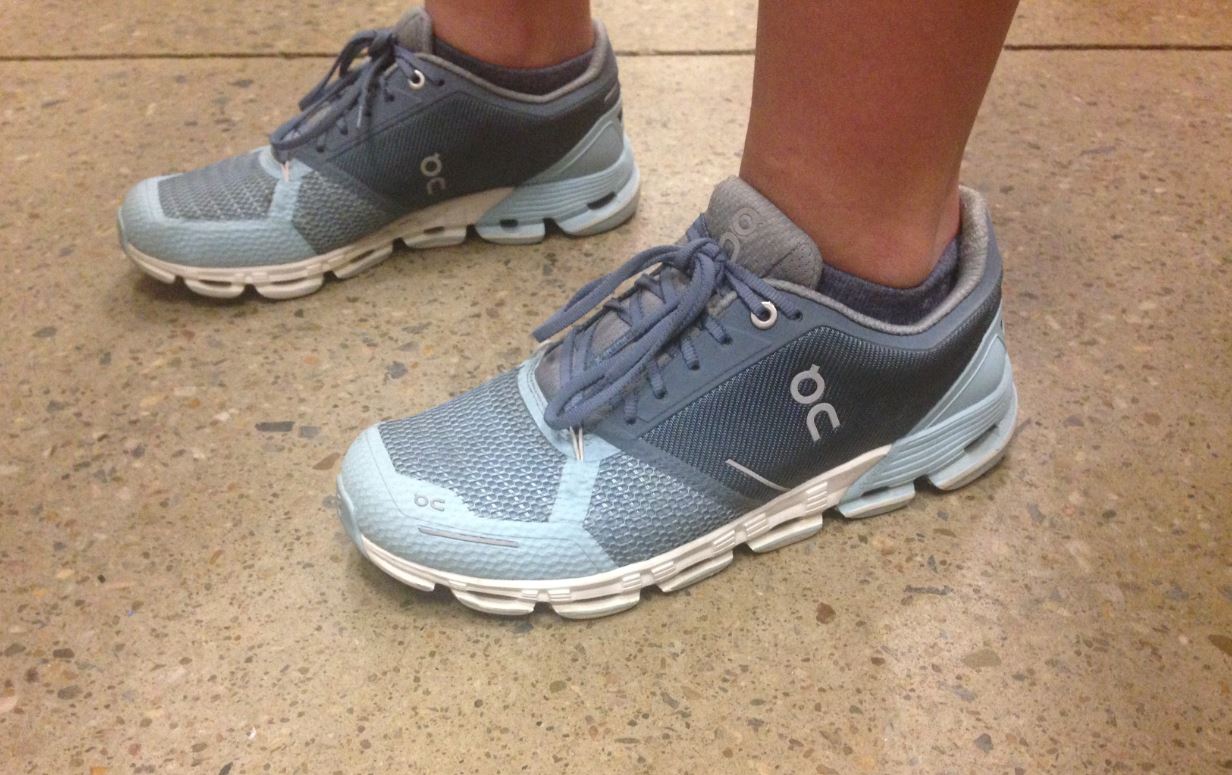 Model: On Cloudflow
Very light. Many rocks get stuck in them. Use them for 5-10km runs. Good for road running. Not for trails (no stability).
Model: On Cloudflyer
Still very light. Less rocks get stuck in them. Comfy for walking. Good stability. Pretty.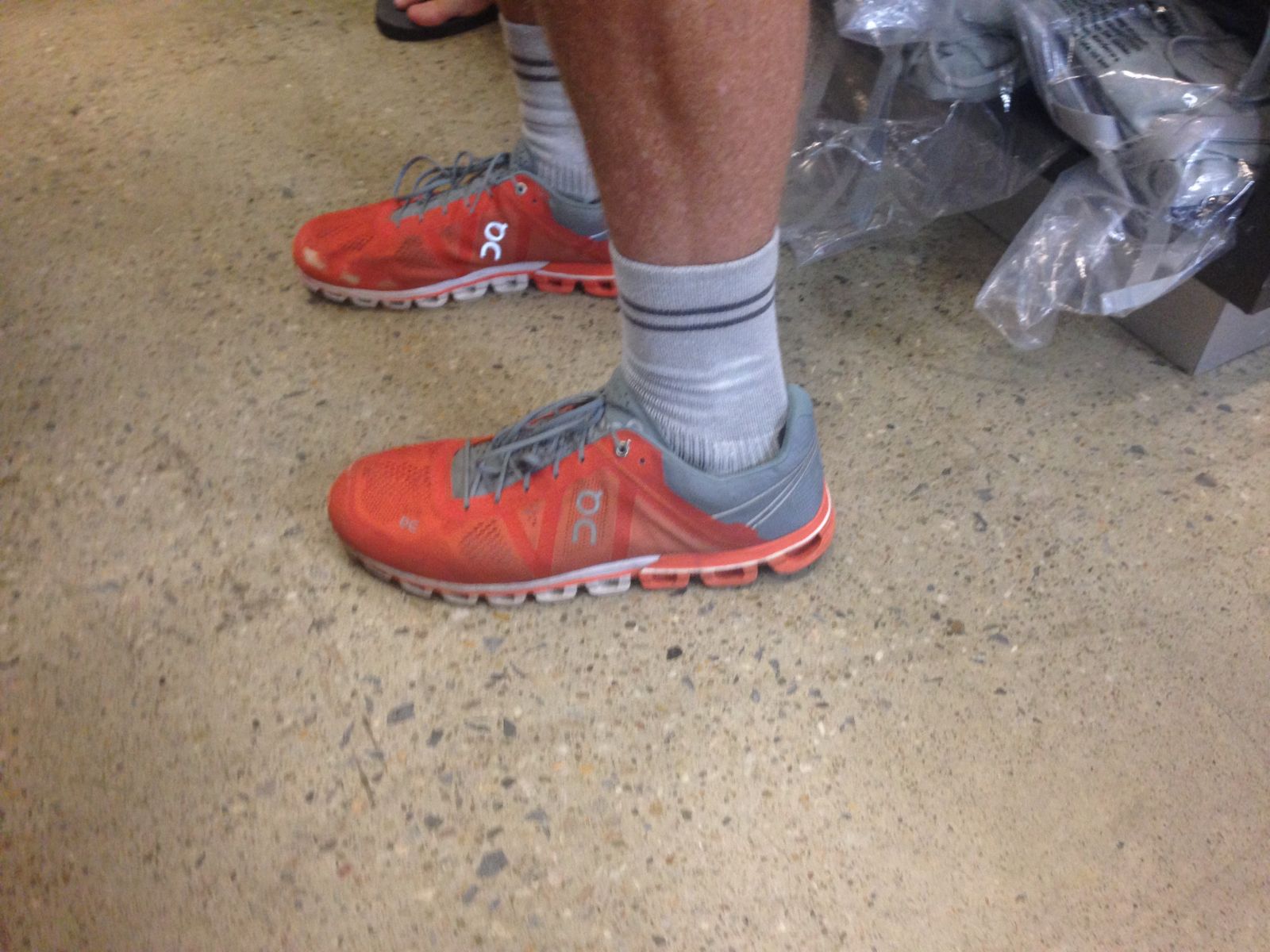 Bruce
Model: On Cloudflyer
The larger lugs (cloud pillows) give me the support I need for my flat feet. A mid weight and responsive shoe that can handle the long yards with great cushioning. I regularly achieve 1000km in my Cloudflyer and shall line up for my fifth pair when the new colour arrives in store.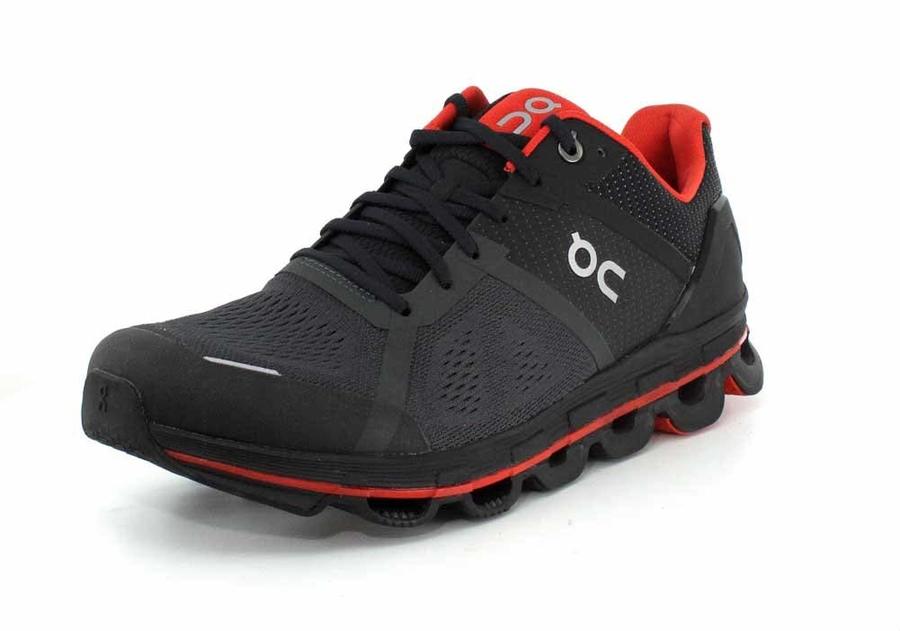 Jack
Model: On Cloudace
The perfect shoe for training. With lots of cushion it gives you a really smooth ride while still being really responsive. The toe box and midfoot is really roomy for an On shoe. I would recommend lace locking to prevent movement in the shoe.
Laura
Model: On Cloudflow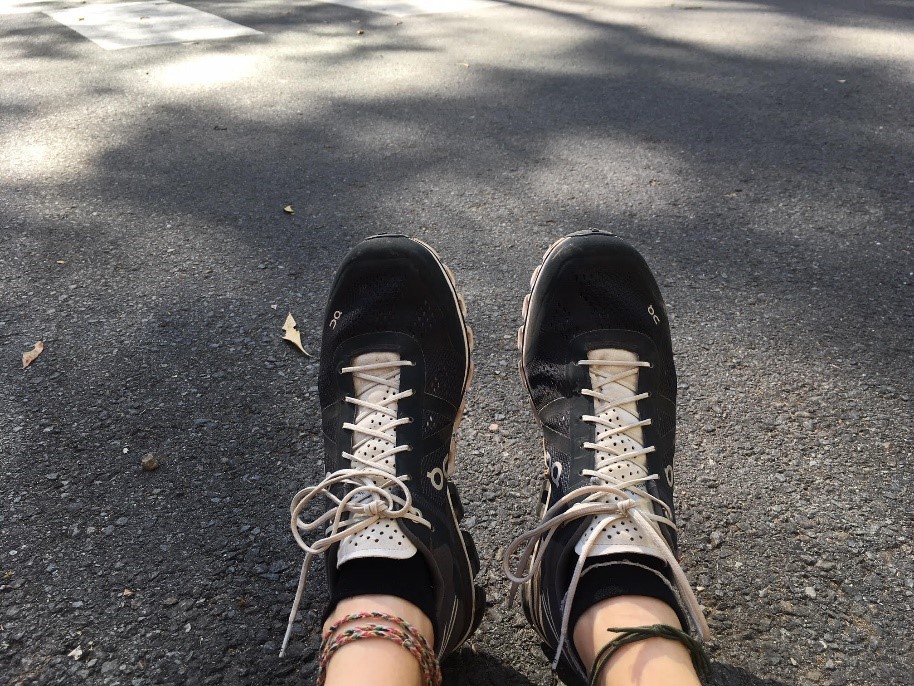 The Cloudflows are a great option for people transitioning from a generic jogger to a running specific shoe with the generous amount of cushioning and lightweight design.
PROS:
The 'clouds' deliver a responsive feel while running, making it easy to feel if your technique is slipping
Standard fitting
Very light
Cushioning of clouds makes longer runs feel effortless!
OK to wear on trails if terrain is dry.
CONS:
Standard fit does mean those with a broader foot may find this shoe uncomfortable
Can be slippery on concrete after rain
Don't be surprised if you get home from your run with a few souvenirs. Small rocks can get stuck between the clouds, but you can't feel them. I finished 7km off road and didn't realise I took this little guy along for the ride.
A great transition shoe for the average runner. A true Jill of all trades, being able to perform both on and off road and for a range of differences. What's not to love?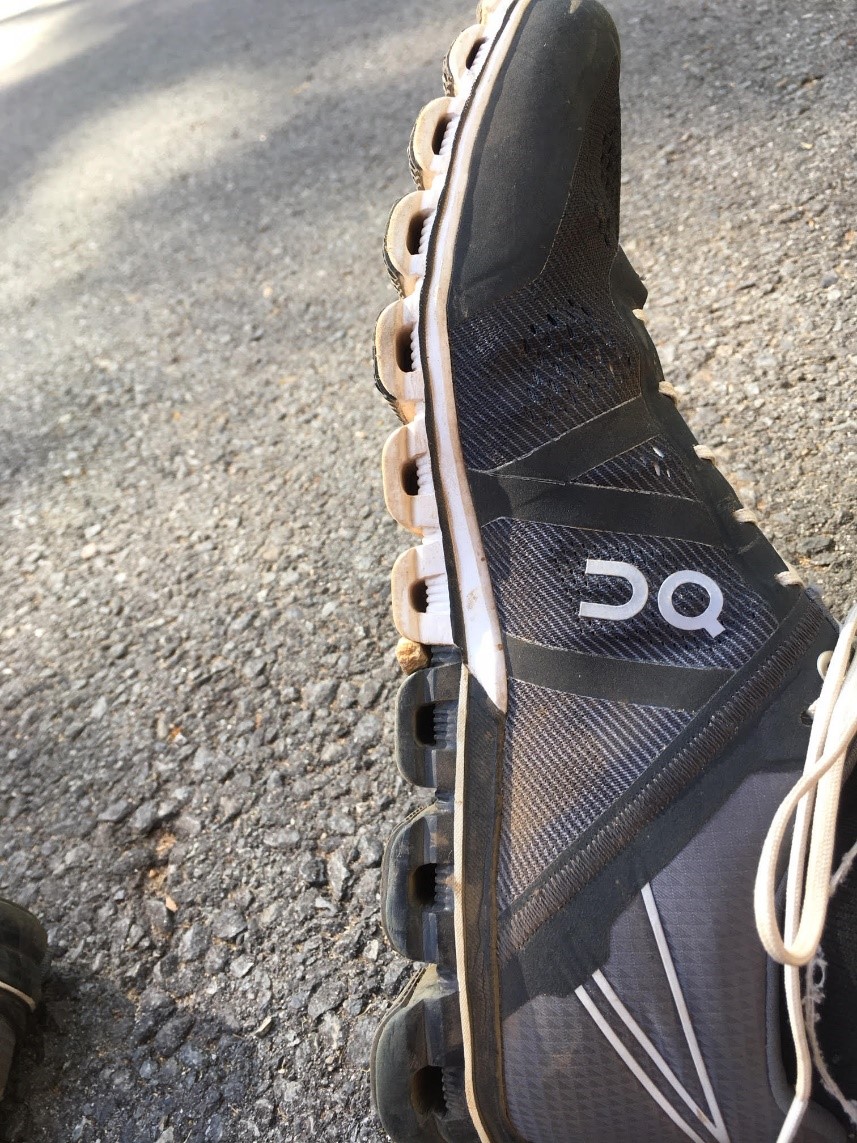 Danae
Model: On Cloudflow
On Running has become my favourite shoe brand because of their slick, pared-back designs and lightweight cushioning. It's easy to respond to the ground in Cloudflows, but instead of being barefoot these shoes keep you feeling pillow-soft on the pavement. Plenty of air gets into the shoes, particularly when there's a breeze, keeping your toes nice and cool. They're especially great if you have narrow feet like me. I've been wearing my Cloudflows on runs and almost every day to work for almost a year and they're still feeling great! It's tempting to get more pairs in other colours though...