PRODUCT REVIEW: Ultimate Direction Adventure Vesta 4.0
Author: Stephanie Ford Date Posted: 26 November 2019
After relying for (too many) years on a hand-me-down vest, Stephanie Ford dared herself to dream about a new hydration vest with all the features she wanted. She landed on the Ultimate Direction Adventure Vesta 4.0.
I've been getting around in the vest since late May and it certainly gets the job done. Over the next few minutes, I'll take you through the features, the pros and the cons of UD's Adventure 4.0.
Overview of Features and Specs
Designed with a female-specific fit, the vest comes in vibrant colours and has plenty of features (and pockets). At 12L, it's a medium-capacity pack. It'll fit your layers, hydration gear, snacks and nutrition, phone, and whatever else you need - within reason.
Here's a video if you'd prefer to see the features for yourself:
Hydration
It comes with a UD body bottle and has capacity to fit a water reservoir/bladder. The bladder isn't included and you'll need to order it separately.
Full disclosure: I use my own soft flasks in the vest. My UD body bottle got lost somewhere along the way but I don't feel I've lost any functionality using my bottles.
The reservoir is a different matter. I've been jamming an old CamelBak bladder (one that refills from the centre) into it the UD vest and I'm definitely not getting the best out of it by doing so. I'd recommend buying a compatible bladder or, at the very least, one that refills from the top.
Storage
There are loops for your poles (if you're into that) and plenty of pockets in the front and back with varying functionality - mostly zippered. If you take nothing else from this review, let it be - pockets.
Fit
Pretty much everything is easily adjustable. You can adjust the chest straps in every direction (in, out, up, down), the waist strap can be easily cinched in or released, and the bungee straps mean you can compress the back pockets of the vest to minimise bounce. There are hooks along the side of the pack too that can further minimise any jiggling.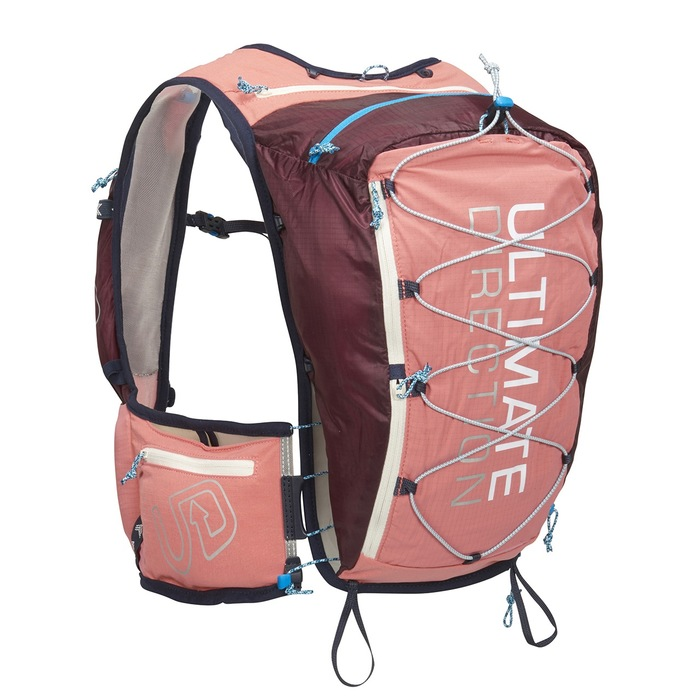 SPECIFICATIONS
Weight: 252g (without bottle) 287g (with bottle)
Volume: 12.4 L
Materials: Flex Mono Mesh, MicroMono Mesh, 30D Nylon 66 sil/pu, 4-Way Stretch Nylon/Elastane
My Favourite Things about the UD Adventure Vesta 4.0:
The best thing about the UD Adventure Vesta 4.0 (in my eyes) is how effortless it makes carrying everything. As traveller and a trail runner, I only feel at ease alone in the wilderness when I'm a little too prepared. I want to come home with leftover food and water. I need my phone to be handy but out of the way. I want a whistle that'll help me alert bears to my presence or get me out of trouble in a worst case scenario. This vest allows me to achieve all that in comfort. Half the time, I forget I'm even wearing the pack.
The pockets are another big bonus. There's plenty of storage at the front of the pack so you'll always have food and whatever else you need handy. The large pocket at the back opens from the top and bottom, so there's easy access to anything larger you might need to pull out later in your run. There's a stuff-sack-inspired mesh pocket plus two zippered pockets that round out the storage on your back. It's almost too easy to keep yourself organised even when your tired brain is barely working.
Finally, it breathes like a dream.
Snacks right at my fingertips in a 50k race up at Big White in Canada - bear spray and poles were recommended. Australians are allergic to poles, right?!
Room for Improvement
In my experience, the small zippered pocket below the bottle would be better as a stretchy mesh pocket - especially for those carrying poles (from what I've heard).
Otherwise, I've had a few runs where I've needed to fiddle with the bladder and bungee hooks to get it to stop sloshing (that noise is like nails on a blackboard to me). But some of that can be put down to user error/laziness and the fact I'm using an incompatible bladder.
I also scoured the reviews available online. A few users commented on the plastic rubbing on their back and causing chafing. I haven't felt the plastic through the mesh at any point - even when wearing the pack without a shirt. I'll put that one down to individual bodies.
Otherwise, there are a host of 4-5 star reviews across most sites.
A very select few also expressed concerns about durability (they all admitted they hadn't had any issues, it just seems like it shouldn't last). The pack is lightweight but also made from incredibly strong materials. I've treated mine horribly at times. It has been mountain biking, snowboarding, shoved in tiny pockets in larger backpacks, and clumsily torn off my body when I'm tired. It looks as good as new almost 6 months later.
My verdict
I honestly love this pack. I wanted something that works equally well for a hot 20k run where I just need some water and any attempts I might make at 50+ k runs in the mountains where I expect to be out for anywhere between 7-12 hours (or more). The UD Adventure Vesta 4.0 achieves just that.
That being said, I always recommend trying on packs. Everyone's body is unique and different, so you will have your own preferences, pet peeves and non-negotiables. Salomon Advanced Skin packs have equally outstanding reviews and functionality. But I just couldn't get it to sit right when I tried one on. If you can't make it in store, you can always Try 2 Anything with Wildfire and send back whichever pack makes your body less happy.
If you're in the market for a beginner vest that you can grow into (this pack is built to last) or you're advancing to longer runs and need to be able to carry more kit, I wouldn't hesitate to recommend the UD Adventure Vesta 4.0.