Bonus Gift Pack Offer [CLOSED]
Date Posted: 2 November 2019
Valued at over AU $160.00 RRP - free when you purchase
Bonus Gift Pack Shoes
! Use coupon code
bonusgiftpack
in the checkout to redeem!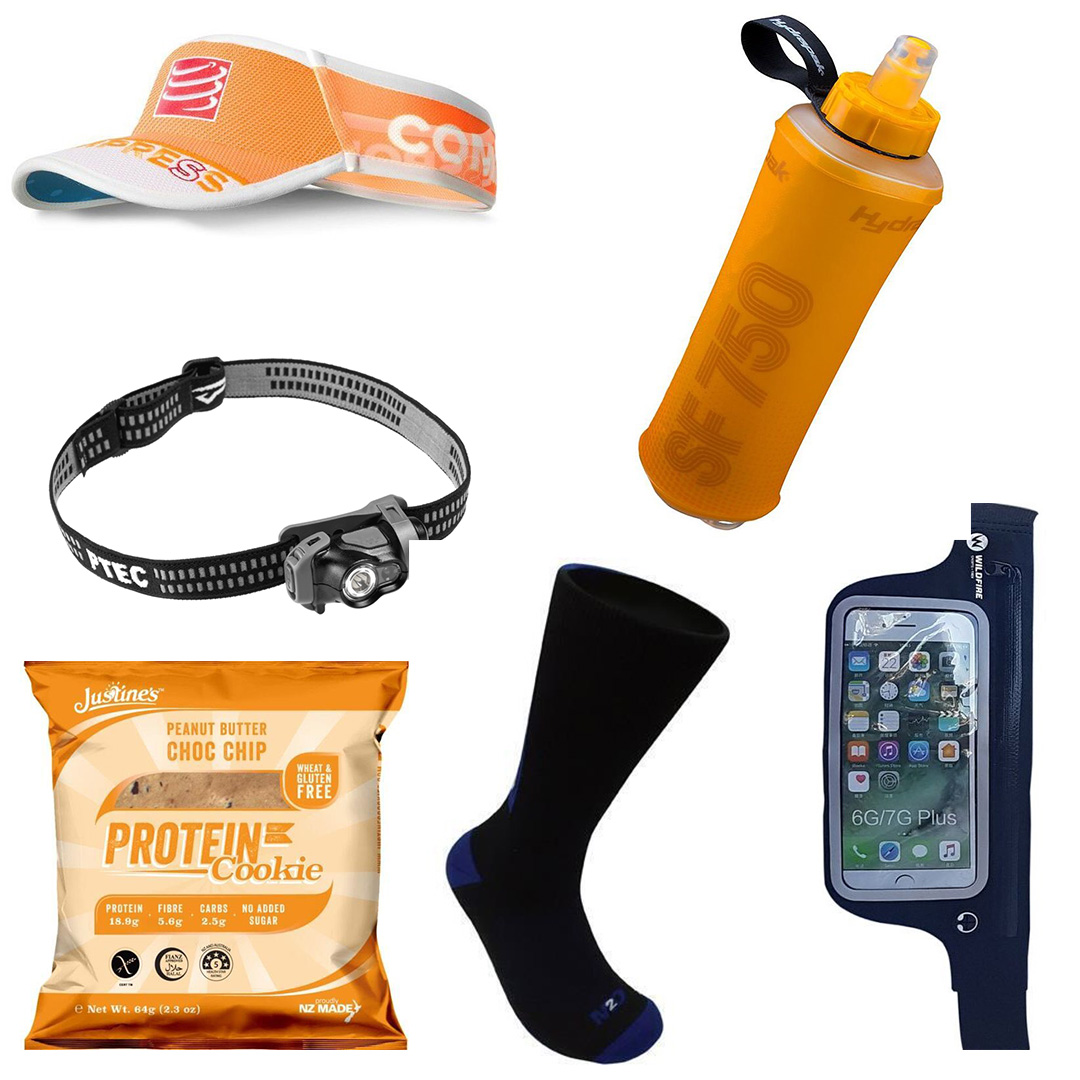 This gift bundle includes:
Justine's Protein Cookies - 3 assorted flavours
Princeton Tec Byte 70 Headlamp
Compressport Ultralight V2 Visor
M2O Azur 3/4 Cycling and Sports Unisex Compression Socks
Hydrapak 750mL Soft Flask
Wildfire Waistpack.
Important Notes
Colours and flavours will be randomised. We will send the appropriately size socks corresponding to your shoes.
If stock runs out of the following items they will be replaced with the following:
Compressport Ultralight V2 Visor - replaced by Compressport Trucker Hat OR Run Visor, then 2XU Run Visor
Princeton Tec Byte 70 Headlamp - replaced by Byte 100, then Sync 90
M2O Azur 3/4 Socks - replaced by M2O Shift 3/4 Socks, then M2O Shield 3/4 Socks
Terms & Conditions
Offer valid until midnight November 14, 2019 OR until shoes and stock run out.
Where stocks run out of an item included in bonus pack, Wildfire reserves the right to substitute with a similar item.
Please allow an extra one to two days processing and shipping time due to demand.

Limit of one bonus pack per order.

Shoes can be exchanged for a different size or another shoe from the Bonus Pack specials but are not able to be refunded unless faulty.
Note one model change is allowed and any price differences need to be paid for and you must notify us within 3 days of receiving your first pair of shoes.

You MUST include the code bonusgiftpack at checkout at time of ordering.
If this code is not included and you later request the bonus pack, you must notify us before November 12 and there will be an additional $35 repackaging and shipping charge.
Saucony Type A8 Womens Shoes Blue/Citron
Inov-8 F-Lite 195 Knit Mens Shoes Black
Inov-8 F-Lite 195 Knit Womens Shoes Purple
Inov-8 Roadclaw 275 V2 Womens Shoes Grey/Teal
Inov-8 Roclite 325 GTX Unisex Shoes Black/Grey
Inov-8 Terra Ultra 260 Womens Shoes Purple
Inov-8 Mudclaw 260 G-Series Mens Shoes Graphene/Green
Inov-8 Roclite 370 G-Series Mens Shoes Black/Blue
Inov-8 Trail Talon 290 Mens Shoes Black/Red
Inov-8 X-Talon 212 Classic Mens Shoes Yellow/Black
Salomon Speedcross 4 Mens Shoes Poseidon/Hawaiian Surf/Fiery Red
Salomon XA Pro 3D Womens Shoes Quarry/Pearl Blue/Aruba Blue
Altra Duo Mens Shoes Blue
Altra Duo Womens Shoes Blue
Altra King MT Mens Shoes Black/Red
Altra King MT Mens Shoes Blue
Altra King MT Womens Shoes Black
Altra King MT Womens Shoes Black/Teal
Altra Solstice Womens Shoes Blue
Altra Superior 3.5 Womens Shoes Dark Blue
Altra Superior 3.5 Womens Shoes Gray/Purple
Altra Timp Mens Shoes Chive
Altra Timp Mens Shoes Gray
Altra Timp Womens Shoes Orchid
Altra Torin 3.0 Womens Shoes Aqua/Pink
Salming Elements 2 Mens Shoes Deep Teal/Sharp Green
Salming Elements 2 Womens Shoes Aruba Blue/Poseidon
Salming Enroute 2 Mens Shoes Petrol Green/Black
Salming Enroute 2 Womens Shoes Black/White/Gold
Salming Trail 5 Mens Shoes Poseidon Blue/Safety Yellow
Salming Trail 5 Womens Shoes Poppy Red/Safety Yellow
On Cloudflyer Mens Shoes Black/White
On Cloudflyer Mens Shoes Blue/White
On Cloudflyer Mens Shoes Grey/Lime
On Cloudflyer Womens Shoes Black/White
On Cloudflyer Womens Shoes Ginger/White
On Cloudflyer Womens Shoes Storm/White
Scarpa Moraine Plus GTX Mens Shoes Charcoal/Mango
Brooks Pure Grit 8 Mens Shoes Quiet Shade/Opal Grey/Black
Brooks Pure Grit 8 Womens Shoes Primer/Pearl Blue/Peach
Asics GEL-Cumulus 21 2E Mens Shoes Metropolis/White Safety
Asics GEL-Cumulus 21 Mens Shoes Sheet Rock/Mako Blue
Asics GEL-Nimbus 21 Mens Shoes Black/Classic Red
Asics GEL-Nimbus 21 Mens Shoes Black/Lemon Spark
Asics GEL-Nimbus 21 Mens Shoes Mid Grey/Silver
Asics GEL-Nimbus 21 Mens Shoes Electric Blue/Midnight
Asics GEL-Nimbus 21 2E Mens Shoes Black/Dark Grey
Asics GEL-Nimbus 21 4E Mens Shoes Black/Dark Grey
Asics GEL-Nimbus 21 D Womens Shoes Heritage Blue/Lake Drive
Asics GEL-Nimbus 21 Womens Baked Pink/White
Asics GEL-Nimbus 21 Womens Shoes Blue Coast/Skylight
Asics GEL-Nimbus 21 Womens Shoes Dark Grey/Mid Grey
Asics GEL-Nimbus 21 Womens Shoes Lavender Grey/Dive Blue
Asics GEL-Nimbus 21 Womens Shoes White/Sun Coral
Asics GEL-Tartheredge Mens Shoes Directoire Blue/Ice Mint
Asics GEL-Tartheredge Mens Shoes Tai-Chi Yellow/White
Asics GEL-Tartheredge Womens Shoes Ice Mint/White
Asics GEL-Tartheredge Womens Shoes Midnight/Laser Pink